2409
2409 is the year during which the events of Star Trek Online are set up until the mission "Cold Storage".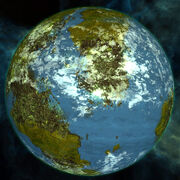 The Federation and Klingons send crews to Nimbus III to track down thalaron triggers.
The Romulan Star Empire is found to be experimenting with Borg technology.
Former Empress Taris is captured and her Iconian gateway destroyed after her involvement in the Hobus supernova is discovered.
The below could potentially take place in 2410.