Raise a Floppa - The Loop
Play Sound

This article is about the
playable starship
. For the
NPC
vessel, see
APU Battleship
.

APU Cruiser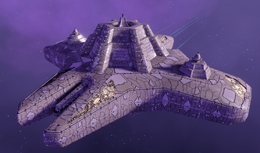 Requires an
Upgrade Token
Hull:

| | |
| --- | --- |
| Tier 5: | 38000 |
| Lvl 40 T5U: | 38000 |
| Lvl 45 T5U: | 41167 |
| Lvl 50 T5U: | 43700 |
| Lvl 55 T5U: | 47183 |
| Lvl 60 T5U: | 50667 |
| Lvl 65 T5U: | 57000 |
Matter-Antimatter
The APU Cruiser is a Tier 5 (Level 40) Cruiser which may be flown by characters of any faction.
Players can obtain this starship as a ultra rare drop from the [Infinity Lock Box]; it comes in an [Infinity Prize Pack - T5 Ship] choice package, which is bound to you until a ship is chosen. It can also drop from the older [Vaadwaur Lock Box]. The boxed ship is not bound and so may be traded to other players or bought and sold on the Exchange for energy credits under the name [Special Requisition Pack - APU Cruiser].
Overview
[
]
The vessels of the APU (which stands for "Automated Personnel Units") are robust and practical, and well-suited for warfare thanks to their longstanding conflicts with one another. The APU from the Pralor and Cravic factions have waged an unending war with one another for many years, thanks to their inflexible interpretation of the core programming that drives them. Despite being artificial lifeforms, the APU are entirely self-contained and do not integrate with any of their known technology. Their starships and equipment can therefore be easily adapted for use by other species.
Type variants
Type
Information

Pralor Cruiser-type


Cravic Cruiser-type

SKIN UNLOCK: Free with this starship

---

The APU Cruiser design consisted of a central hub from which five arms extended in a star-like formation. Pralor cruisers are tinted gray in color while Cravic cruisers are tan in color. They possessed weapon systems "substantially superior" to those of the U.S.S. Voyager, using quantum resonance torpedoes as their primary armament. Defensively, they employed a complex subspace defense field.
Starship Mastery
[
]
Starship Mastery
CRUISER
Level
Name
Description
I
Absorptive Hull Plating
+25 Physical Damage Resistance Rating.
+25 Kinetic Damage Resistance Rating.
II
Rapid Repairs
Regenerates 1.25% of your maximum hull every 3 seconds in Space. Twice the amount is regenerated out of combat.
III
Enhanced Hull Plating
+25 All Energy Damage Resistance Rating.
+25 Radiation Damage Resistance Rating.
IV
Armored Hull
+10% Hull Hitpoints.
Abilities
[
]
Cruiser commands
The APU Cruiser supports the following cruiser commands:

Standard configuration
[
]
Starships come with standard equipment and weapons of the lowest mark available at the ship's minimum rank. The items provided are appropriate to the type of vessel and its related playing style.
T5-X upgrade
By using an [Experimental Ship Upgrade Token], the APU Cruiser may be upgraded to T5-X, unlocking an extra ship device slot, universal console slot, and the ability to slot an extra starship trait.
Ship comparison
[
]
The following table compares T5 Cross-Faction Cruisers.
Ship

Rank

Tier

Hull

 
 
 

Uni

BOffs

IR

Cost

Cardassian Galor Cruiser

40

5
37500
1.25
1.3
4
4
✗
3
4
3
4
✗
✗
10
0.17
40
Undine Dromias Bio-Cruiser

40

5
42000
1.4
1.1
4
4
✗
3
4
3
4
✗
11
0.18
40
Risian Luxury Cruiser

40

5
41400
1.38
1.1
4
4
✗
3
5
2
4
✗
10
0.16
40
APU Cruiser

40

5
38000
1.267
1
4
4
✗
3
4
2
4
✗
✗
8
0.15
35
Admiralty ship
[
]
Admiralty Ship
47
21
15
+10 SCI per EngShip
External link
[
]