Aarn Tzen-Tarrak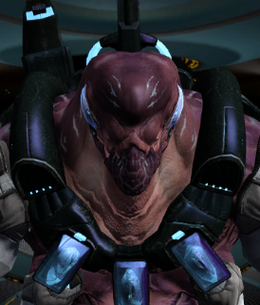 Military Rank:
Fleet Admiral
Profession(s):
Information giver
Fleet Admiral Aarn Tzen-Tarrak is a Tzenkethi officer serving the Tzenkethi Coalition impersonated by the Female Changeling.
Missions involved
[
]
Other involvement
[
]
"The Means to an End": In 2399, Aarn Tzen-Tarrak, a Captain, commands a Tzenkethi mission to

Lukari Prime

. The Tezenkethi have determined that the Lukari do not pose a threat to the Coalition; however, they have discovered the Lukari's use of Protomatter, which could be used as a devastating weapon. Later, two Tzenkethi officers meet with Madran on Ferenginar. Madran has failed to purchase the Lukari's data on Protomatter technology as he had been hired to do, and the Tzenkethi offer a considerable price to steal the information instead. Back aboard their ship, Tzen-Tarrak expresses his satisfaction that the Tzenkethi will soon possess the ability to produce Protomatter weapons, and that he will assume the role of Autarch once he is known as the man who saves Tzenketh from certain doom.
"A Divided Duty": The Tzenkethi starship Fearless arrives at Kzuuln-5. The crystals the Tzenkethi are seeking have been detected on the planet, and it has therefore been marked for destruction. Admiral Tzen-Tarrak's science officer, Prult, raises objections to the assignment, as the primitive culture on the planet is attempting to contact them with messages of peace. Tzen-Tarrak ultimately relieves Prult of duty in order to ensure the mission proceeds as planned. Prult attacks the security guards escorting him through the ship, and rushes to the weapons bay to destroy the protomatter bomb. He believes he has succeeded, but discovers that the bomb was a decoy arranged by Tzen-Tarrak, who had anticipated some of his officers having second thoughts about their mission. Tzen-Tarrak executes Prult, and orders the bridge to resume their mission.
Notes
[
]