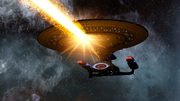 Overview
[
]
The Ability: Phaser Spinal Lance is a unique forward-facing phaser, and is much more powerful than any standard weapon in-game. When used effectively, this is a devastating weapon, but players must watch out for the massive weapon power drain it causes. Its recharge time fits with the low turn rate of the only ship that has this weapon: the Federation Dreadnought Cruiser.
It fires a 0.06 kilometer cylinder within a 45 degree targeting arc.
Basic Information
[
]
Profession All
Locale Space
Game Description The Dreadnought Cruiser's Phaser Spinal Lance is a devastating weapon. Built into the entire structure, or "spine", of the hull, this weapon cannot be removed. The weapon fires a single massive phaser beam that is so massive and devastating that it typically pierces multiple targets - if they happened to be lined up. The Spinal Lance is not an array, and thus can only fire in a very narrow arc directly in front of the ship. However, if the saucer section is separated from the ship, the weapon can fire in multiple directions (at slight penalty to damage dealt). This massive weapon has a very long cooldown time, and is not affected by Bridge Officer powers like Overload, Fire at Will, or Subsystems Targeting.
Additional Information These consoles (below) can increase damage of a players Phaser Lance.
Consoles enhancing damage
[
]
Consoles enhancing accuracy
[
]
Consoles enhancing CrtH/CrtD
[
]
Detailed Information
[
]
Used by: Vice Admiral (Lvl. 50)
Target: Enemy
System: N/A
Attack Type: Beam array damage
Ability Type: N/A
Activation: 0.5 secs
Range: 10 km
Shares cooldown with:
Starts cooldown on: 3 min
Modified by:

Skills
Subsystems Power Level
Traits
Stats

Trained by:

This ability cannot be trained
Ability Ranks
[
]
Ability/User Rank

CD

SPR

Ability Effects
Rank I:
180s
N/A

Base damage of 9k, but can be modified by several factors
-50 Weapons power
Gallery
[
]