No Man's Sky Update - The Loop
Play Sound

Abraham Lincoln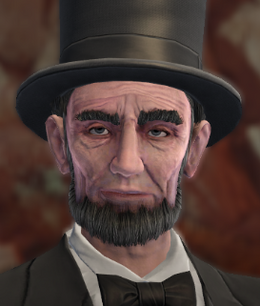 Profession(s):
Information giver
Ambassador
President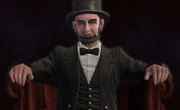 A simulacrum of Abraham Lincoln was created by the Excalbians in the 23rd century out of the mind of James T. Kirk. He was constructed as part of the first trial of good vs evil, alongside a simulacrum of Surak, to assist Kirk and Spock against the simulacrums of Kahless, Colonel Phillip Green, Zora and Genghis Khan.
Lincoln was killed during the trial, but his simulacrum was recreated as the Excalbians continued to debate good vs evil. During the second trial, in 2411, he assists the player in navigating the trials and dealing with Yarnek. He is shown as a moderating influence on the Excalbians, defending the player when their choices are criticized.
Notes
[
]
Despite being a simulacrum, Abraham Lincoln is the first real-life person to appear in Star Trek Online, as he is based on the 16th President of the United States.
Missions involved
[
]
References
[
]
External links
[
]
---