Fire Emblem Warriors: Three Hopes - The Loop
Play Sound

Adet'pa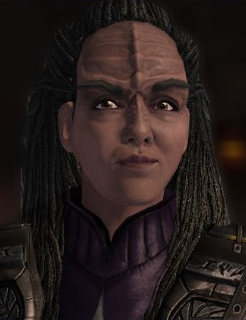 Adet'pa (previously known by many names including "Agent Qlb", and "The Witch of Nimbus III") is a Klingon officer serving as First Officer and later Captain of the I.K.S. Kor under General Kurn. Following the Hur'q attack on Bajor, she accompanies Martok and Kurn to Deep Space 9. She is later revealed to have been hiding as a member of House Mo'Kai under J'Ula. Assuming a mysterious identity, she serves as a guide to Klingon players during the Klingon Recruitment Event.
Missions given
[
]
Missions involved
[
]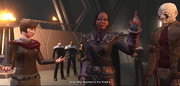 "A Day Long Remembered": With allies gathered and preparing for the final battle of Qo'noS, Adet'pa quotes a human saying which has provided wisdom and drive for her to create defenses against Aakar's tricks. She joins the briefing as J'Ula, L'Rell, Martok and the player provide motivational speeches and waits for the player's word before departing for Qo'noS. In orbit of Qo'noS, the Kor charges into battle with the player and their allies as they defeat the first wave of Lethean, Nausicaan and Ferasan hostiles, as reported by Kagran which she rebuffed on J'mpok's cowardice. She later aids in disabling J'mpok's flagship and his main fleet following a failed attempt to destroy the player, who drew the mycelial weapon's fire to the K't'inga instead which allowed Tarsev's Liberated Elachi to enter the battle. J'mpok flees back into the Great Hall as Aakar and his forces arrive, where J'Ula orders Adet'pa and Kagran to lead the forces against them while she beams down to the surface with the player, Martok and L'Rell. Despite her hands being full coordinating the battle in space at the same time, Adet'pa aids the player and L'Rell in breaking through Aakar's shields and personal transporters, thereby allowing the player to kill Aakar just as J'mpok falls to J'Ula. Two weeks following the defeat of J'mpok, Adet'pa is present at the Great Hall celebrating with the crew of the Coldstar during the event, as she recounts events during the Civil War such as the return of L'Rell and a battle with a 'giant, cybernetic reptile'. She also expresses satisfaction as she got an insight to Aakar's computer security when dealing with his tricks, and congratulates the player on a job well done finishing him.
"Remain Klingon": Adet'pa, Kagran and Martok coordinate Alliance efforts in destroying the Kri'stak and the Targ during the final battle on Qo'noS in orbit. When the Targ targets a player's ship, Adet'pa instructs them to swiftly move into the Kri'stak's position, allowing the mycelial weapon to hit and the Mo'Kai virus to disable her. Adet'pa will also instruct players to destroy repair ships and cloaking devices aiding the Targ, and when both ships are disabled, she targets the two flagships alongside players and destroys them.
Other involvement
[
]
"Tale of the Witch": Rodek and his wife, B'irja, travel to Nimbus III in search of Adet'pa, a Klingon woman known locally as a "witch." They discover the cave she lives in, and she invites them inside for a meal. Adet'pa correctly deduces that they have sought her out to learn the truth behind J'mpok's duel with Martok in 2393. She reveals that Torg intervened after J'mpok delivered what should have been the killing blow, taking Martok prisoner and maintaining him in a near-death state. Torg did this in order to install J'mpok as Chancellor; later, he would undermine J'mpok and assume the role himself, with the ultimate goal of establishing himself as a new Emperor. Adet'pa had been discredited and exiled to prevent her from sharing her knowledge of these events. She tells Rodek and B'irja that she will tell them where Martok is being kept, if they agree to bring her back to Klingon space and arrange for asylum within the House of Martok.
"The Ascendant": Adet'pa approaches J'Ula, revealing she has been in hiding as a member of House Mo'Kai. She pledges to join J'Ula's ranks.
"Remain Klingon": In the final battle of the Klingon Civil War in orbit of Qo'noS, B'Eler and Trevana desperately crack Aakar's encryption codes, ensuring not to bring the shipyard's security down on them. Retrieving the new weapons and defense systems' design specs, they bring the information to the Witch.
Notes
[
]
External link
[
]
---