Raise a Floppa - The Loop
Play Sound

Andorian
Andorians are a humanoid race native to the frozen moon of Andoria. They were one of the founding races which created the United Federation of Planets, along with Humans, Vulcans and Tellarites. Andorians are a playable race in Star Trek Online, and belong to the Starfleet and TOS Starfleet factions.
Physical features
[
]
Andorians have a typical humanoid structure but have several distinguishing characteristics to their species. They have antennae on the tops of their heads, blue skin and white or silver hair. Some female Andorians tend to have very elaborate hair styles. The default style for Andorians is that seen in Star Trek: Enterprise.
TOS style
[
]
Andorians are one of the four available races for the TOS Starfleet and, in keeping with the aesthetic of Star Trek: The Original Series, those characters have the TOS head model for Andorians available. Once a TOS character has completed "The Battle of Caleb IV", those options become available to standard Federation characters also.
DSC style
[
]
Andorians in Star Trek: Discovery-era missions use the style seen in that show. However these parts are not available to players as of 2018.
Culture
[
]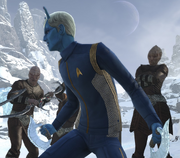 Andorians are a militaristic species, yet despite this are very emotional and passionate. They are known for their artistic touch and their works are highly valued. Their art academy is known to be one of the best in the Federation. Due to their militaristic nature they have a strong sense of honor and value honesty.
Andorians traditionally fought ritualistic duals to the death known as the Ushaan. While this is now outlawed in the Federation, they still practice non-lethal duals.
Traits
[
]
Species trait: Andorians are known for their passion in combat and their acute perception of their surroundings. As Andorians take damage, they gain a bonus to their own outgoing damage based on how much health they are missing. Their acute senses allow them to sense stealthed opponents, deal more damage with Exploit attacks, and reduce the amount of damage they take from flanking.

On Ground: +Bonus damage for each point of missing health. This bonus increases greatly as your health nears zero.
On Ground: +10 Perception

+10% Exploit Damage
+25% Resistance to Flanking damage

Available
People
[
]
NPCs
[
]
Duty officers
[
]
See also
[
]
External links
[
]