Fire Emblem Warriors: Three Hopes - The Loop
Play Sound

Andorian Charal Escort

Requires an
Upgrade Token
Hull:

| | |
| --- | --- |
| Tier 5: | 32000 |
| Lvl 50 T5U: | 36800 |
| Lvl 55 T5U: | 39733 |
| Lvl 60 T5U: | 42667 |
| Lvl 65 T5U: | 48000 |
Matter-Antimatter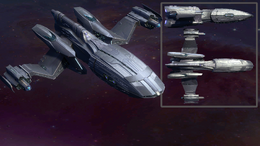 This article is about the T5
playable starship
. For other uses, see
Kumari class
.
The Andorian Charal-class Escort is a Tier 5 (Level 50) Escort which may be flown by Starfleet characters, including Federation-aligned Romulan Republic and Dominion characters. All faction restrictions of this starship can be removed by having a level 65 KDF character or by purchasing the Cross Faction Flying unlock from the Zen Store.
Players can obtain this starship from the Zen Store for 2,500

 under the name Andorian Kumari Escort - Charal Class. This ship can be purchased individually, or as part of the Andorian Kumari Vessels Bundle for 5,000

.
Overview
[
]
The Kumari was the first ship of its class, placed under the command of Commander Thy'lek Shran in 2142. This iconic Andorian vessel served as a foundation for the development of many later ships, but the Kumari line is a direct improvement over the original Kumari design using the latest developments in Federation technology.
The Charal class offers a balance between offensive firepower and defensive staying power.
Class variants
Class
Information

Charal class

SKIN UNLOCK: Free with this starship

---

The Charal class has a distinctively bulkier and more armored appearance than its peers. The dorsal and ventral blisters have a distinct appearance, its hull is also by default a slightly more purple-red shade. The forward hull is more blunted, and the Wing Cannons are placed at the tips of the wings rather than several meters inward. The cannons themselves are also thicker and have more a pronounced "recoil" animation when firing.

Khyzon class

SKIN UNLOCK: Andorian Khyzon Escort, 2,500

---

The Khyzon class maintains a similar appearance to the Kumari escort, but has a less aggressive profile. It lacks the dorsal and ventral fins, and its wing cannons are less tapered.

Kumari class

SKIN UNLOCK: Andorian Kumari Escort, 2,500

---

The Kumari-class design is sharp and tapered, with a forward hull resembling a flattened bullet. Its wings extend out to the sides of the rear hull and have a slight fold. Its distinctive Wing Cannons are mounted a few meters inward towards the main hull maintain a tapered shape, accented by a pair of protrusions enclosing the cannons. Small fins protrude from the dorsal and ventral hull to give a sharper appearance.

Chimesh class

SKIN UNLOCK: Andorian Chimesh Pilot Escort, 3,000

---

The Chimesh class facilitates the experimental technologies of Dewan design, this variant allows for increased Science bridge officer seating and consoles, packing additional utility and other surprises into an already deadly package.

Kuthar class

SKIN UNLOCK: Andorian Kuthar Pilot Escort, 3,000

---

The Kuthar class draws upon Lethean sensibilities of subsystem reinforcement and computer processing speeds, and therefore offers additional Engineering bridge officer seating and consoles, while sacrificing very little in terms of its offensive capabilities.

Thozyn class

SKIN UNLOCK: Andorian Thozyn Pilot Escort, 3,000

---

The Thozyn class reflects the Andorian military heritage and philosophies of overwhelming firepower and strategic superiority, and allows for additional Tactical bridge officer seating and consoles as a result.
Starship Mastery
[
]
Starship Mastery
ESCORT
Level
Name
Description
I
Precise Weapon Systems
+5 Accuracy Rating.
II
Tactical Maneuevering
+5% Defense.
III
Enhanced Weapon Systems
+10% Kinetic Damage.
+10% All Energy Damage.
IV
Devastating Weaponry
+2.5% Critical Chance.
Abilities
[
]
Universal consoles
[
]
The Charal comes with a [Console - Universal - Wing Cannon Platforms], part of the Andorian Assault Set. This ship may also equip the other items from that set.
Kumari Phaser Wing Cannons
[
]
The Charal comes equipped with [Kumari Phaser Wing Cannons], which can only be used on Andorian vessels.
Experimental Weapon
[
]
The Andorian Charal-class Escort comes with an Experimental Weapon slot. This additional slot does not fit standard weapons. Unlike standard starship weapons, Experimental weapons are not affected by weapon firing modes, such as those granted by bridge officer abilities.
Standard configuration
[
]
Federation starships come with standard equipment and weapons of the lowest mark available at the ship's minimum rank. The items provided are appropriate to the type of vessel and its related playing style.
T5-X upgrade
By using an [Experimental Ship Upgrade Token], the Andorian Charal-class Escort may be upgraded to T5-X, unlocking an extra ship device slot, universal console slot, and the ability to slot an extra starship trait.
Ship comparison
[
]
The following table compares T5 Federation Escorts.
Ship

Rank

Tier

Hull

 
 
 

Uni

BOffs

IR

Cost

Patrol Escort

40

5
31000
1.033
0.9
4
3
✓
4
3
2
2
✗
✗
16
0.2
60
20,000  • 1
Mirror Saber Escort Retrofit

40

5
27600
0.92
0.9
4
3
✓
4
2
3
2
✗
✗
17
0.2
70
Mirror Patrol Escort

40

5
31000
1.033
0.9
4
3
✓
4
3
2
2
✗
✗
16
0.2
60
Mirror Advanced Escort

40

5
31000
1.033
0.9
4
3
✓
4
2
3
2
✗
✗
16
0.2
60
Advanced Escort

40

5
31000
1.033
0.9
4
3
✓
4
2
3
2
✗
✗
16
0.2
60
20,000  • 1
Saber Escort Retrofit

50

5
27600
0.92
0.9
4
3
✓
4
3
2
2
✗
✗
17
0.2
70
200,000
Fleet Advanced Escort (T5)

50

5
34100
1.137
0.99
4
3
✓
5
2
3
2
✗
✗
16
0.2
70
20,000  • 4
Fleet Tactical Escort Retrofit

50

5
33000
1.1
0.99
4
3
✓
5
3
2
2
✗
✗
17
70
20,000  • 4
Fleet Saber Escort Retrofit

50

5
30360
1.012
0.99
4
3
✓
4
4
2
2
✗
✗
17
0.2
70
20,000  • 4
Fleet Patrol Escort

50

5
34100
1.137
0.99
4
3
✓
4
4
2
2
✗
✗
16
20,000  • 4
Tactical Escort Retrofit

50

5
30000
1
0.9
4
3
✓
4
3
2
2
✗
17
0.2
70
2,000  • 1
Blockade Runner Escort Retrofit

50

5
34500
1.15
1
4
3
✓
4
4
2
2
✗
✗
16
0.21
60
2,500
Andorian Khyzon Escort

50

5
32000
1.067
0.9
5
2
✓
4
2
4
2
✗
16
0.2
70
2,500
Andorian Charal Escort

50

5
32000
1.067
0.9
5
2
✓
4
4
2
2
✗
16
0.2
70
2,500
Andorian Kumari Escort

50

5
32000
1.067
0.9
5
2
✓
5
3
2
2
✗
16
0.2
70
2,500
Patrol Escort Refit

50

5
31500
1.05
0.95
4
4
✓
5
2
2
2
✗
16
0.2
2,500
Multi-Vector Advanced Escort

50

5
31000
1.033
0.9
4
3
✓
4
2
3
2
✗
16
0.2
70
2,500
Fleet Patrol Escort Refit

50

5
34650
1.155
1.045
4
4
✓
5
3
2
2
✗
✗
16
0.2
20,000  • 5
Admiralty ship
[
]
Admiralty Ship
24
54
20
+35 ENG when Alone
Gallery
[
]
External links
[
]