Armored hatham

Armored hatham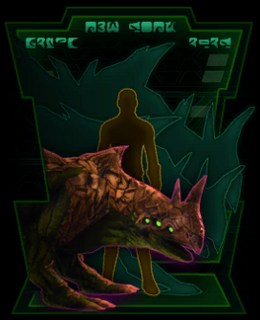 The Armored Hatham are predators located on New Romulus.
The Armored Hatham's green shell allows them to blend into their surrounding environments and their multiple eyes let them spot prey from afar. It is certain that they also possess night vision.
They hunt by skewering their prey with their large front horns, before tearing them with their claws. It takes nearly two weeks for an Armored Hatham to digest its food, yet they hunt on a daily basis. This may be a way of proving their strength, or a form of mating ritual. They hunt for sport, not for survival; however, they usually avoid fighting humanoids.
Observing the Alpha Armored Hatham will cause it to become hostile.
---