GTA: The Criminal Enterprises - The Loop
Play Sound

B'Elanna Torres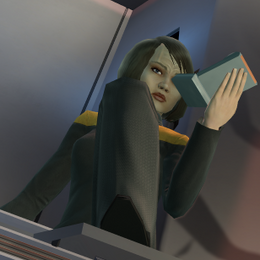 Military Rank:
Lieutenant Junior Grade
Profession(s):
Chief Engineer
Lieutenant Junior Grade B'Elanna Torres (also known as B'Elanna Paris) is a hybrid Human/Klingon. She is best known for her tenure as the Chief Engineer of the U.S.S. Voyager when the ship was lost in the Delta Quadrant during the 24th Century. She is also the wife of Captain Tom Paris and mother of the U.S.S. Kirk's head of security Miral Paris.
History
[
]
B'Elanna was born in 2349 on the planet Kessik IV to a Klingon mother (Miral), and Human father (John Torres); her parents' relationship did not last however and B'Elanna was raised mainly by her mother from the age of five years.
In 2366, B'Elanna attended Starfleet Academy, but dropped out two years later.
In 2371, B'Elanna was a member of a Maquis cell under Chakotay, operating out of the Badlands. That same year, members of Chakotay's Maquis group along with the Federation starship U.S.S. Voyager were stranded 70,000 light years in the Delta Quadrant by the Caretaker. In order to survive, both groups agreed to join together as part of Voyager's crew, with Torres becoming the ship's Chief Engineer.
In 2377, B'Elanna marries fellow Voyager crewmember Tom Paris; the two give birth to Miral Paris the following year just as they manage to return home to Earth.
Missions involved
[
]
Notes
[
]
The cutscene where B'Elanna appears is based on a scene from the

Star Trek: Voyager

episode

Deadlock

.
In Episode #207 of the Priority One Podcast, Lead Designer Al Rivera confirmed that veteran STO voice actress Lani Minella, not

Roxann Dawson

, provided the voice for B'Elanna Torres in the cutscene.
The consumable item Banana Pancakes is based on B'Elanna's favorite childhood food.
External Links
[
]
---