Bartender (Player Starship)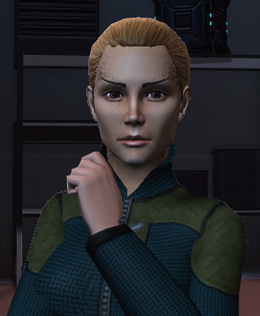 Profession(s):
Food Vendor
Duty Officer Assignment Giver
The Bartender is a Civilian located in the ship interior of a Player Starship. For Federation players, she is a Trill located in the Lounge of the crew deck. For Klingon Empire players, she is an Orion located in the Mess Hall of the crew deck. Romulan Republic players can contact the Chef via a console on the Bridge.
Her menu comprises various drink items and she will also buy items at a markdown of 60% (40% of an item's value). In addition, she provides access to bartender duty officer assignments.
Federation Ship Menu
[
]
Klingon Ship Menu
[
]
Assignments
[
]
Notes
[
]
Additional items may appear, depending on which bartender duty officers are in the duty officer roster.
The menus displayed are from characters without any bartender duty officers.
Romulan Republic characters, regardless of allegiance, have the same Bartender menu as Federation characters.
See Also
[
]