Bastion
For the NPC Voth starship, see Voth Bastion Cruiser. For the playable vessel, see Voth Bastion Flight-Deck Cruiser.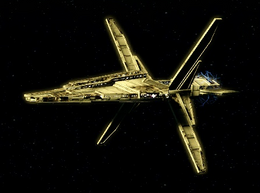 The Bastion is a Povini starship commanded by Captain Egen Burren.
"Of Signs and Portents": The player discovers the Bastion, the sole surviving Povini vessel following a Tzenkethi attack. After repairing the ship and rescuing Povini survivors, the player directs Captain Burren to take the Bastion to Deep Space K-13.