Belan
Belan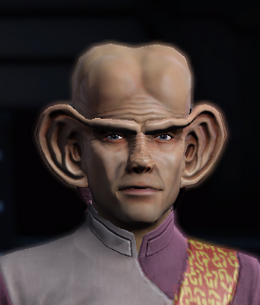 Profession(s):
Food Vendor
Belan is a Ferengi bartender selling food and beverages on Drozana Station. He can be found at the West end of the bar.
* This special drink, Comet Cocktail, (used to breed any tribble into a Triolic Tribble ) will be unlocked/displayed and available for purchase at Belan or any bartender on Drozana Station only after finishing the

Episode "Spin the Wheel".
Level
Standard Difficulty
Advanced Difficulty
Elite Difficulty
Shields
Health
Shields
Health
Shields
Health
50
230
4800
n/a
n/a
n/a
n/a