Fire Emblem Warriors: Three Hopes - The Loop
Play Sound
Boratus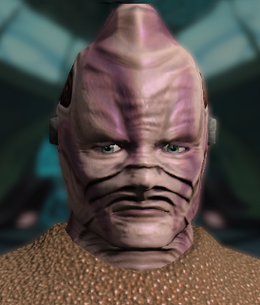 Profession(s):
Information giver
Boratus is the Vorgon commander of the V.S.V. Arbarel. He and his mate Ajur are pursuing Kal Dano to retrieve the Tox Uthat.
Missions involved
[
]
"Vorgon Conclusions": The player encounters the Arbarel from the Lirss System in the 27th Century, where they are attacking Kal Dano. After a battle with the player's ship, they escape to

NGC-162

in the year 2152, where they interrupt a battle between the NX-01 Enterprise and the Tholians. The Tholians then turn their attention to the Vorgons and the player, and the Arbarel escapes during the battle. The player catches up with the vessel in the Sol System in 2375, during the Breen attack on Earth during the Dominion War, where the Tox Uthat is being held in a vault under Starfleet Command. In the Vault, Boratus and Ajur encounter the Envoy, who asks them to join him. They refuse, but Ajur is killed in a subsequent battle with the player. Boratus escapes, and agrees to join forces with the Envoy to seek revenge.
"Temporal Reckoning": As a member of the Envoy's Temporal Liberation Front, Boratus is killed in battle with the player.
"The Measure of Morality (Part 1)": Ajur appears as a simulacrum.
Other involvement
[
]
"Winter of Discontent": Boratus confronts a Starfleet Lieutenant among those he captured during the Breen attack on Earth. He exposes her escape plan, and turns the prisoners over to three Breen soldiers. After Boratus leaves, the Breen are revealed to be disguised Temporal Agents, led by Daniels. They send all of the prisoners home except for the Lieutenant; Daniels explains that the Lieutenant was meant to die during the attack, and cannot return home. Instead, he recruits her into Temporal Operations, and brings her to the future.
External links
[
]
---