Raise a Floppa - The Loop
Play Sound

Bortas Heavy Battlecruiser
Matter-Antimatter
Bortasqu'-class
 ~Heavy Battlecruiser Variants
Tier 5 Variants
Bortas Heavy Battlecruiser

This article is about the
playable starship
. For the
NPC
vessel, see
Bortasqu' Dreadnought Battlecruiser
.
The Bortas-class Heavy Battlecruiser is a Tier 5 (Level 50) Battlecruiser which may be flown by Klingon Defense Force characters, including Klingon Empire-aligned Romulan Republic and Dominion characters. All faction restrictions of this starship can be removed by having a level 65 KDF character or by purchasing the Cross Faction Flying unlock from the Zen Store.
Players can obtain this starship from any Ship and Shuttle Requisitions officer for 200,000

, so long as the player's Fleet has a Tier V Shipyard and one Starbase Military Fleet Ship Provision.
The Bortas class was first introduced as a limited-time reward for participating in the 2 Year Anniversary Event. Players who claimed this ship from that event may reclaim it now on all Klingon Defense Force and allied characters on their account via the Event Reputation Account Reward Claim tab.
Overview
[
]
Not content to rest on their laurels, the Klingon Defense Force engineering teams at the Ty'Gokor Fleet Yards have been hard at work advancing Klingon ship design into the 25th century. When Chancellor J'mpok demanded a new, more powerful flagship to lead the Empire, they were ready with the Bortas-class Battlecruiser, a ship that will bring swift vengeance to enemies of the Empire.
Until the Operation: Delta Rising, the Bortas-class Battlecruiser was the largest, most powerful battlecruiser in the Klingon arsenal. Its massive hull affords it incredible resilience in battle, but it sacrifices turn rate for that size. It comes with a standard cloaking device, but its massive energy signature means the cloak is less effective than it would be on a smaller vessel. The Bortas-class is designed to take on any foe no matter how powerful, and because of that is designed with versatility in mind.
Class variants
Class
Information

BortaS class

SKIN UNLOCK: Exclusive to this starship

---

The Bortas class leads the KDF into a new era of honor and glory for the Empire. Durability and versatility is an understatement, sporting many armored sections and recessed bussard collectors. The Bortas class continues the styling of the previous flagship Negh'Var class and its sister Qu'Daj class.
Abilities
[
]
Universal consoles
[
]
The Bortas Heavy Battlecruiser doesn't come equipped with any universal consoles.
However, as a Bortasqu'-class variant, it can equip [Console - Universal - Disruptor Autocannon], [Console - Universal - HoH'SuS Bird-of-Prey] and [Console - Universal - Subspace Snare] which form the Bortasqu' Cruiser Set. These consoles are obtainable with Bortasqu' Tactical Cruiser (T5), Bortasqu' War Cruiser (T5) and Bortasqu' Command Cruiser (T5), but can also be equipped on the Bortas Heavy Battlecruiser. For each console added after the first, an additional passive bonus is unlocked.
As a Klingon Flagship, the Bortas Heavy Battlecruiser can also equip consoles part of the Flagship Technologies Console Set, which includes [Console - Universal - Timeline Stabilizer], [Console - Universal - Flagship Tactical Computer], [Console - Universal - Adaptive Emergency Systems] and [Console - Universal - Dampening Wave Emitter] obtainable with Krenim Science Vessel (T6), Martok Tactical Battlecruiser (T6), Kahless War Battlecruiser (T6) and Gorkon Science Battlecruiser (T6). For each console added after the first, an additional passive bonus is unlocked.
Cloak
The Bortas-class Heavy Battlecruiser has a cloak that allows the ship to cloak when not in combat, granting stealth and a damage bonus upon decloaking.
Cruiser commands
The Bortas-class Heavy Battlecruiser supports the following cruiser commands:

Standard configuration
[
]
Klingon starships come with standard equipment and weapons of the lowest mark available at the ship's minimum rank. The items provided are appropriate to the type of vessel and its related playing style.
Ship comparison
[
]
The following table compares the Bortas with other tier 5 Klingon battlecruisers.
Ship

Rank

Tier

Hull

 
 
 

Uni

BOffs

IR

Cost

Kamarag Battlecruiser Retrofit

40

5
35000
1.167
1
4
4
✓
3
4
2
3
✗
✗
10.5
0.15
30
1 Mission reward
Negh'Var Heavy Battlecruiser

40

5
39000
1.3
1
4
4
✓
3
4
2
3
✗
✗
9
0.15
25
20,000  • 1
Vor'cha Battlecruiser Retrofit

40

5
36000
1.2
1
4
4
✓
3
4
2
3
✗
✗
10
0.15
30
20,000  • 1
Bortas Heavy Battlecruiser

50

5
43500
1.45
1
4
4
✓
4
4
1
4
✗
✗
5.5
0.15
18
200,000
Bortasqu' Command Cruiser

50

5
43500
1.45
1
4
4
✓
4
4
2
4
✗
5.5
0.15
18
2,500
Bortasqu' War Cruiser

50

5
43500
1.45
1
4
4
✓
4
5
1
4
✗
5.5
0.15
18
2,500
Bortasqu' Tactical Cruiser

50

5
43500
1.45
1
4
4
✓
5
4
1
4
✗
5.5
0.15
18
2,500
K't'inga Battlecruiser Retrofit

50

5
31500
1.05
1
4
4
✓
3
4
2
3
✗
✗
11
0.15
35
200,000
Fleet Tor'Kaht Battlecruiser Retrofit

50

5
39600
1.32
1.1
4
4
✓
4
4
2
3
✗
✗
10
0.15
30
20,000  • 4
Mogh Battlecruiser

50

5
37500
1.25
1
5
3
✓
4
4
1
3
✗
9
0.15
50
2,500
Fleet Mogh Battlecruiser (T5)

50

5
41250
1.375
1.1
5
3
✓
4
4
2
3
✗
✗
9
0.15
50
20,000  • 4
Fleet K'maj Battlecruiser Retrofit

50

5
38500
1.283
1.1
4
4
✓
3
4
3
3
✗
✗
10.5
0.15
30
20,000  • 4
Fleet K't'inga Battlecruiser Retrofit

50

5
34450
1.148
1.1
4
4
✓
3
4
3
3
✗
✗
11
0.15
35
20,000  • 4
Fleet Negh'Var Heavy Battlecruiser

50

5
42900
1.43
1.1
4
4
✓
3
5
2
3
✗
✗
9
0.15
25
20,000  • 4
Mirror Vor'cha Battlecruiser

40

5
36000
1.2
1
4
4
✓
3
4
2
3
✗
✗
10
0.15
Mirror Universe Negh'Var Heavy Battlecruiser

40

5
39000
1.3
1
4
4
✓
3
3
3
3
✗
✗
9
0.15
25
Admiralty ship
[
]
Admiralty Ship

38
24
13
-5% Maintenance per Any Ship
Notes
[
]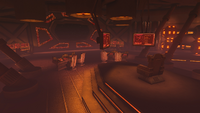 Gallery
[
]
External links
[
]