Brea System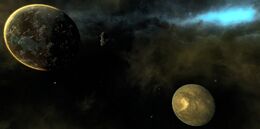 The Brea System is a system located in the Unroth Sector of the Beta Quadrant.
System Description
[
]
The tropical world of Brea III was once a pleasure planet for the Romulan Star Empire. High-ranking military officers, senators and nobles flocked to its warm oceans and built palatial homes in secluded jungle estates. Scientists and archaeologists studied ruins of an ancient civilization scattered across the planet. After the destruction of the homeworld, however, the estates fell into decay and the research projects were forgotten. Most of the population migrated to more populous worlds. Brea III was left to quietly decay, and the jungle has reclaimed much of what was once there.
Structure
[
]
Missions Involed
[
]
"Cutting the Cord": Before the player can investigate a Tal Shiar base on Brea III, several defense satellites and ships have to be defeated in orbit.
Gallery
[
]
Notes
[
]