No Man's Sky Update - The Loop
Play Sound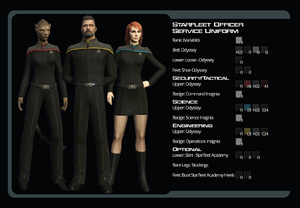 During character creation players may choose one of three career paths they wish to follow (Tactical, Engineering, Science). Like the player's race, a career path is a permanent choice that cannot be altered later in game.
Although each career path offers certain bonuses towards specific play-styles in space and ground combat (e.g., damage dealing, or healing, or robustness), character roles are not very rigidly defined in Star Trek Online, and any character may fly any ship, wear any uniform, and equip almost any item (the only career-specific items being kits). Although Bridge Officers are likewise categorized into the three career paths, they solely determine the pool of abilities they have access to.
In general, career specific elements in Star Trek Online encompass:
Tactical

[

]
Space: Tactical Officers have a considerable edge in Damage Dealing due to their unique tactical abilities such as Attack Pattern Alpha, Fire on my Mark, and Tactical Initiative.
Ground combat, tactical kits give powers that allow the player to put out increased damage as well as spike damage (one-time concentrated bursts of firepower), AoE (Area of Effect) damage via grenades, and abilities that improve the damage output and staying power of allies.
Unique traits
Engineering

[

]
Unique traits
Science

[

]
Unique traits
Character development in Star Trek Online

Bridge Officer abilities •


Captain Specializations •


Career paths

Active Duty Officer Slots •

Kits •


Skills •

Starship types •


Traits