Cerin Teresa
Timeline Change Imminent!

---

This article or section contains information that no longer applies to the current version of Star Trek Online. It is provided only for historical purposes.

Cerin Teresa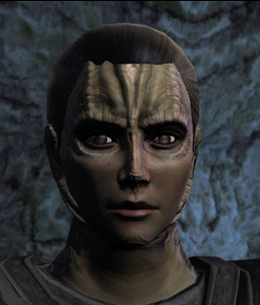 Profession(s):
Peace activist
Cult leader
Cerin Teresa is a Bajoran/Cardassian hybrid born to Dukat and Mika, members of the Cult of the Pah-wraiths, on Empok Nor in 2375.
She is a devout peace activist, dedicated to solidifying relations with the Bajoran and Cardassian peoples.
"Cage of Fire": The player is tasked with escorting Cerin Teresa's runabout to Bajor. After fighting off a squadron of True Way ships and bringing Teresa to the Fire Caves of Bajor, Teresa reveals her involvement with both the True Way and the cult of the Pah-Wraiths. The player is forced to engage Teresa in combat, and rescue the hostages contained within the Fire Caves.