Cernan System

Cernan System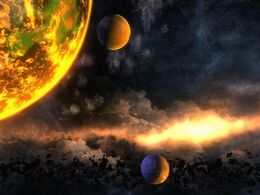 The Cernan System is a system located in the Kassae Sector of the Beta Quadrant.
Due to the high concentration of carbon dioxide in the atmosphere, Starfleet requires that members of away teams visiting Cernan II be inoculated with a tri-ox compound prior to arrival.
Trace amounts of argon-nitrogen compounds in the atmosphere may cause problems for Benzite away team members. Respiration devices are recommended.