GTA: The Criminal Enterprises - The Loop
Play Sound
Charva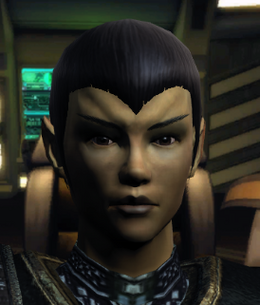 Military Rank:
Romulan Commander
Charva is the Commander of the Romulan warbird I.R.W. Aethra, and a member of the Tal Shiar. She also used to be in a relationship with Tovan Khev.
Her fate after the events of "Tradecraft" is unknown though she's likely a POW.
History
[
]
Charva grew up as an orphan. Tovan Khev met her in the aftermath of the Hobus supernova as a woman with passionate feelings and striking beauty. They talked often of their dreams of a better life for their people – a new home, and a new beginning where they could rebuild and carry on the best traditions of the Romulan people. Loyal to a fault, Tovan soon could not imagine spending his life with any other woman.
However, on the eve he sought to express these intentions to Charva, she preempted him with news of her own – in order to secure the peaceful and unified future she imagined, she intended to join the Tal Shiar. Her decision finally led to their relationship ending and the two would not meet again until 2409.
Missions involved
[
]
"The Price of Neutrality": Charva contacts the player after they defeat the Hirogen at Chaltok IV.
"Memory Lane": Charva claims that the Virinat colony was destroyed because of a covert terrorist base. She sends the player to investigate her claim and D'Tan's involvement, however, no solid evidence can be found.
"Smash and Grab": Charva informs the player that Tovan Khev's sister, Rinna, is aboard a prison transport passing through the Kinkuthanza System. However, the information turns out to be false and the Tal Shiar successfully manipulated Tovan and the player into destroying a True Way weapons convoy.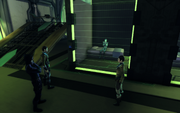 "Tradecraft": Tovan and the player challenge Charva about her superiors and their deceptions. After she tries to truly help Tovan, the Tal Shiar declares her an enemy of the state. Commander Maurus takes command of Charva's ship, the I.R.W. Aethra, which is, however destroyed trying to take custody of the three. Charva is subsequently detained and transported to Subcommander Nadel aboard the R.R.W. Deihu for further questioning by the Romulan Republic Intelligence. Despite what happened, she puts the blame on herself, continuing to believe in the Tal Shiar and accusing Tovan and the player to have steered her wrong.
Note
[
]
Her exact fate after "Tradecraft" is unknown, as she could either escape, be incarcerated for war crimes or join the Romulan Republic.