GTA: The Criminal Enterprises - The Loop
Play Sound

Chimera Heavy Destroyer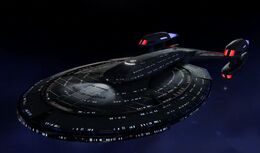 Hull:

| | |
| --- | --- |
| Tier 5: | 34500 |
| Lvl 40 T5U: | 34500 |
| Lvl 45 T5U: | 37375 |
| Lvl 50 T5U: | 39675 |
| Lvl 55 T5U: | 42838 |
| Lvl 60 T5U: | 46000 |
| Lvl 65 T5U: | 51750 |
Matter-Antimatter

This article is about the T5
playable starship
. For the improved T6 version, see
Manticore Heavy Destroyer
. For other uses, see
Chimera class
.
Release date: October 10, 2012

The Chimera-class Heavy Destroyer is a Tier 5 (Level 40) Destroyer which may be flown by Starfleet characters. All faction restrictions of this starship can be removed by having a level 65 KDF character or by purchasing the Cross Faction Flying unlock from the Zen Store.
Players can obtain this starship from any Ship and Shuttle Requisitions officer if they are a 1000-day Veteran or a lifetime subscriber.
Overview
[
]
Starfleet Corps of Engineers (SCE) has been working on a special new destroyer class starship, designed for high-level combat situations. The project was so secret that access to the Utopia Planitia shipyard was restricted for months while the project was completed. Now, Starfleet Command has decided to offer ships of this class to its most experienced captains. When in Sector Space, the Chimera's pylons angle upwards, like those of the Intrepid class and its sister classes.
The Chimera's most striking trait is by far the change in appearance enabled by the Dynamic Tactical System. The console effectively turns the Chimera into a "transformer", with three different appearances. When engaging Tactical Mode, the Chimera's saucer splits, with the outer edges expanding and locking into 3 sections. Portions in the middle of the saucer sink lower, pushing the lower saucer to partially obscure the deflector dish. The center portions of the saucer, near the bridge, also raise up to expose the Chimera's Phaser Lotus Array, and the rear pylons angle downwards to move the nacelles below the saucer.
Class variants
Class
Information

Chimera class

SKIN UNLOCK: Free

---

In its default mode, the Chimera's structure features an integrated saucer and hull. The ship has a large deflector dish protruding from the bottom of the saucer. Four nacelles are attached to level pylons extending from the rear of the hull. Each nacelle is separated by a short pylon that retracts when at warp, pulling together to form a more compact appearance.

Manticore class

SKIN UNLOCK: Free

---

After the success of the Chimera-class Heavy Destroyer prototype, Utopia Plantia shipyard has decided to make further advancements upon the experimental design of the Heavy Destroyer. The result is the Manticore-class Heavy Destroyer.
Starship Mastery
[
]
Starship Mastery
DESTROYER
Level
Name
Description
I
Precise Weapon Systems
+5 Accuracy Rating.
II
Enhanced Weapon Banks
+15% Critical Severity.
III
Devastating Weaponry
+2.5% Critical Chance.
IV
Enhanced Weapon Systems
+10% Kinetic Damage.
+10% All Energy Damage.
Abilities
[
]
Universal console
[
]
The Chimera Heavy Destroyer can utilize [Console - Universal - Dynamic Tactical System] or [Console - Universal - Enhanced Dynamic Tactical System] from her Tier 6 counterpart. When equipped in any console slot, these consoles allow the Chimera to switch between Regenerative and Tactical modes. It also unlocks two new abilities, depending on the selected mode:
In Regenerative Mode, player gains access to Tachyon Inversion Beam, which can siphon shields from multiple targets.
Activating Tactical Mode transfers power to Weapon Systems and enables a powerful multi-targeting lotus, which is capable of piercing multiple targets.
Experimental Weapon
[
]
The Chimera-class Heavy Destroyer comes with an Experimental Weapon slot. This additional slot does not fit standard weapons. Unlike standard starship weapons, Experimental weapons are not affected by weapon firing modes, such as those granted by bridge officer abilities.
Standard configuration
[
]
Federation starships come with standard equipment and weapons of the lowest mark available at the ship's minimum rank. The items provided are appropriate to the type of vessel and its related playing style.
T5-X upgrade
By using an [Experimental Ship Upgrade Token], the Chimera-class Heavy Destroyer may be upgraded to T5-X, unlocking an extra ship device slot, universal console slot, and the ability to slot an extra starship trait.
Ship comparison
[
]
Following table compares all Veteran Destroyers.
Ship

Rank

Tier

Hull

 
 
 

Uni

BOffs

IR

Cost

Chimera Heavy Destroyer

40

5
34500
1.15
0.9
4
3
✓
4
3
2
3
✗
14
0.22
1,000
Fleet Chimera Heavy Destroyer

50

5
37950
1.265
0.99
4
3
✓
4
4
2
3
✗
✗
14
0.22
20,000  • 1  • 1,000
Fleet Manticore Heavy Destroyer

1

6
43643
1.265
0.99
4
3
✓
5
4
2
3
✗
✗
14
0.22
80
20,000  • 1  • 1,000
Manticore Heavy Destroyer

1

6
39675
1.15
0.9
4
3
✓
5
3
2
3
✗
14
0.22
80
1,000
Peghqu' Heavy Destroyer

40

5
34500
1.15
0.833
4
3
✓
4
3
2
3
✗
14
0.22
1,000
Fleet Peghqu' Heavy Destroyer

50

5
37950
1.265
0.92
4
3
✓
4
4
2
3
✗
✗
14
0.22
20,000  • 1  • 1,000
Duvqu' Heavy Destroyer

1

6
39675
1.15
0.833
4
3
✓
5
3
2
3
✗
14
0.22
80
1,000
Fleet Duvqu' Heavy Destroyer

1

6
43643
1.265
0.916
4
3
✓
5
4
2
3
✗
✗
14
0.22
80
20,000  • 1  • 1,000
Daeinos Warbird Destroyer

40

5
34500
1.15
0.83
4
3
✓
4
3
2
3
✗
14
0.22
1,000
Fleet Daeinos Warbird Destroyer

50

5
37950
1.265
0.92
4
3
✓
4
4
2
3
✗
✗
14
0.22
80
20,000  • 1  • 1,000
Dinaes Warbird Destroyer

1

6
39675
1.15
0.83
4
3
✓
5
3
2
3
✗
14
0.22
80
1,000
Fleet Dinaes Warbird Destroyer

1

6
43643
1.265
0.913
4
3
✓
5
4
2
3
✗
✗
14
0.22
80
20,000  • 1  • 1,000
Fleet Jem'Hadar Vanguard Heavy Destroyer

1

6
41400
1.2
1.04
4
3
✓
5
4
2
3
✗
✗
14
0.22
80
20,000  • 1  • 1,000
Jem'Hadar Vanguard Heavy Destroyer

1

6
37950
1.1
0.95
4
3
✓
5
3
2
3
✗
14
0.22
80
1,000
Admiralty ship
[
]
Admiralty Ship
30
48
12
+8 SCI per SciShip or EngShip
Gallery
[
]
Notes
[
]
External link
[
]