Fire Emblem Warriors: Three Hopes - The Loop
Play Sound

TOS Constitution Class Cruiser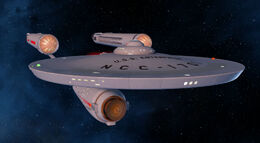 Matter-Antimatter
Constitution-class
 ~Cruiser Variants

This article is about the
playable starship
. For other Constitution class starships, see
Constitution class
.
Release date: February 2, 2010

The Constitution-class Light Cruiser is a Tier 1 (Level 1) Cruiser which may be flown by Starfleet characters, including Federation-aligned Romulan Republic and Dominion characters. All faction restrictions of this starship can be removed by having a level 65 KDF character or by purchasing the Cross Faction Flying unlock from the Zen Store.
Players can obtain this starship from any Ship and Shuttle Requisitions officer for 15,000

. This ship can be purchased individually, or as part of the Federation Starter Pack for 1,000

. It is also available as part of the following: Temporal Agent Starter Pack for 2,000

 , Temporal Special Agent Pack for 15,000

. This ship was previously available on its own from the Zen Store; players that purchased it from there can still reclaim it from there on all their characters.
Overview
[
]
A legendary 23rd century Starfleet vessel, the Constitution-class Cruiser regularly went where no one had gone before. A durable, versatile ship, it handled a variety of missions, including exploration, first contact, research, and system defense. This is the classic pre-refit Constitution class, as can be seen in The Original Series. This ship has been retrofitted with 25th century technologies, while retaining the classic look.
Class variants
Abilities
[
]
Cruiser commands
The Constitution-class Light Cruiser supports the following cruiser commands:

Standard configuration
[
]
Federation starships come with standard equipment and weapons of the lowest mark available at the ship's minimum rank. The items provided are appropriate to the type of vessel and its related playing style.
Ship comparison
[
]
The following table compares Tier 1 Federation starships that are not Small Craft.
Ship

Rank

Tier

Hull

 
 
 

Uni

BOffs

IR

Cost

Utility Cruiser

1

1
10000
1
1
2
1
✓
1
1
1
2
✗
✗
11.4
0.2
50
1,000
TOS Constitution Class Cruiser

1

1
12000
1.2
1
2
1
✗
1
2
1
2
✗
✗
11.4
0.2
45
15,000
Oberth Light Science Vessel

1

1
10000
1
1.2
2
1
✗
1
1
2
2
✗
13
0.15
50
15,000
Light Escort

1

1
10000
1
1
2
1
✓
2
1
1
2
✗
14
0.17
50
15,000
Light Cruiser

1

1
10000
1
1
2
1
✓
1
1
1
2
✗
✗
11.4
0.2
50
1,000
Blockade Runner Escort

1

1
11000
1.1
1
2
1
✓
2
1
1
2
✗
16
0.21
50
2,500
Andorian Light Escort

1

1
10000
1
0.95
3
1
✓
1
1
1
2
✗
✗
14
0.17
70
Malachowski Light Cruiser

1

1
10000
1
1
2
1
✓
1
1
1
2
✗
✗
11
0.2
50
1,000
Admiralty ship
[
]
Admiralty Ship
6
6
6
2.5x Critical Rating from ENG
Gallery
[
]
Notes
[
]
External links
[
]