DOT-7 Non-Combat Drone
DOT-7 Non-Combat Drone
Very Rare Inventory
Character Bind On Pickup
Unique - Max of one per character
DOT-7 Drone
Values do not reflect skills or other modifiers
Summon DOT-7 pet.
Value: 0

The [DOT-7 Non-Combat Drone] is a non-combat ground pet. It is a reward for completing part one of Event Campaign II, reclaimable on any character on the account.

The charm of the aging D0T-7 Starfleet Drone design is not lost on many modern captains, to the point that replica companions utilizing its likeness have become quite popular amid the resurgence of interest in mid-23rd century designs as a whole. This automated replica is only equipped with the most basic AI subroutines and should be incapable of causing issues even when exposed to hostile technology. It will passively follow its owner, but will retreat if faced with combat.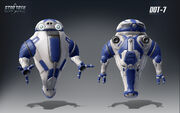 To summon a ground pet, place the item in your inventory and right-click to use it. Alternatively, drag the item from Available skills list (default key "P") to your Power tray, from where you can launch it.
This item cannot be equipped in a device slot
You may only own one of these pets at a time, so if you already own one, you will be unable to unpack this item.
---