Fire Emblem Warriors: Three Hopes - The Loop
Play Sound

Daniels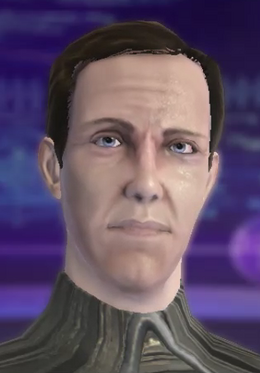 Profession(s):
Information giver
Temporal Agent
Daniels is a "mostly Human" temporal agent from the 31st century. He plays a pivotal role in the Temporal Cold War, often assisting the crew of the Enterprise (NX-01) in preventing temporal incursions in the 2150s, and continues to do so with players in Star Trek Online.
Missions involved
[
]
Agents of Yesterday
[
]
Age of Discovery
[
]
"Downfall": The player character's ship is sent forward to 2409 by J'Ula's mycelial weapon during the battle for Starbase 1, and recorded as being lost with all hands. Daniels greets the player in his Temporal Observatory, and warns of the danger J'Ula presents to the timeline. After speaking with the Logistics Officer and the Tailor, Daniels tells the player to speak with Temporal Agent Philip Crey and informs that he will keep in touch with them.
Yesterday's War
[
]
Future Proof
[
]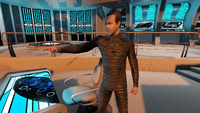 "Temporal Reckoning": Daniels joins the player on a mission to stop a temporal incursion at New Khitomer; while there, he is killed by Noye. Captain Benjamin Walker reveals that Daniels' progressive injuries were a result of serving as a crucial figure through multiple iterations of the Battle of Procyon V.
"Ragnarok": Following Noye's defeat at the Battle of Procyon V, the timeline is altered, restoring Daniels to life without his accumulated injuries.
New Frontiers
[
]
"Survivor": Daniels joins the player, along with Sela to locate a temporal duplicate of Admiral T'nae.
PvE Queues
[
]
"Days of Doom": Daniels welcomes players to the 23rd Century and provides them with holo-emitters of era-appropriate ships to blend into the timeline before beginning the mission.
"The Battle of Procyon V": Daniels guides the player through several iterations of the Battle of Procyon V, accumulating injuries with each repetition of the battle, until the Command Sphere is successfully destroyed.
Missions mentioned
[
]
Other involvement
[
]
Gallery
[
]
Notes
[
]
With 17 missions featuring the character, each including unique voiceovers by Matt Winston, Daniels is the most featured canon character voiced by the original actor in Star Trek Online.
External links
[
]
---