Deep Space K-13

Deep Space K-13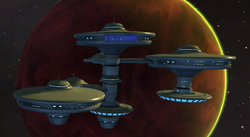 Starbase Deep Space K-13 (aka Fleet Station K-13) was a Starfleet station orbiting Beta Fornacis III, an unremarkable class K planet in the Deneva System, Orion Sector in the 23rd Century, active as early as 2256. The station was constructed by Starfleet shortly before in response to elevated Orion Syndicate activity in the sector.
By 2410, it has been relocated to the 20 Draconis System, in the Alpha Quadrant and retrofitted as a fleet holding. After sufficient advancement it will provide an increasing number of amenities to the members of the owning Fleet, including specialist vendors, mail, bank, and later an exchange terminal.
The Exterior of K-13 is enhanced through K-13 Tier development. There are 3 tiers. At the start the exterior is damaged; as you move up the tiers it is gradually fixed.
The Interior of K-13 is enhanced through K-13 Tier development. There are 3 tiers. At the start the interior is damaged and full of debris; as you move up the tiers it gets cleaned up and repaired. K-13 is subdivided into three sections:
Central area
Retrofit Engineering Wing
Xenotechnology Wing
Ensign T'Met: Medical officer
Commander O'Ryan: Acting Station Commander
Meredith Nichols: Chief Engineer
Sheldon: Engineer
Dennis Sheridan: Nurse
T'Von: Security Officer
Yashvi
Arlington
Commander O'Ryan: Station Commander
Sheldon: Chief Engineer
Lieutenant Reeve: Chief Engineer
Captain B'ram: Commander, Klingon force (deceased)
Commander Krom: Commander, Klingon force
Lieutenant Varss: Klingon force
K'venn: Soldier, Klingon force
Torgal: Soldier, Klingon force
Laris: Klingon force
B'mera: Klingon force
Tomar: Squad Leader, Klingon force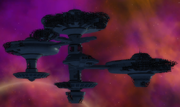 "Painful Omens": In 2270, Admiral Garrett sends the player to investigate a loss of contact with the station. Following a battle with a Na'kuhl ship, the station is temporally displaced.
"Echoes of Light": The player, along with Captain Kuumaarke of the Lukari, discover the derelict station in the 20 Draconis System in 2410. They claim the station in the name of the player's fleet, and prepare to refurbish it, as well as revive its crew members and Klingon prisoners, who have been held in stasis.
See also: List of K-13 projects
Instead of the three Starfleet tracks present in the Fleet Starbase advancement process, only two tracks (Retrofit Engineering and Xenotech Research) are present in the K-13 advancement process.
Unlocking higher Retrofit Engineering tiers will grant access to provisionable rewards: Fleet 23rd Century Weapons, 23rd Century Duty Officers, 23rd Century Bridge Officer Training Manuals
Unlocking higher Xenotech Research tiers will grant access to provisionable rewards: 23rd Century Kit Modules, Xenotech Engineering Consoles
Tier requirements and rewards
[
edit
|
edit source
]
Tier
K-13
Retrofit Engineering
Xenotech Research

Tier I

1,000 K-13 XP

Unlocks

Ship Selector
Retrofit Engineering Wing
Xenotechnology Wing
Biologist Facilities

Construction Projects

8,500 K-13 Retrofit Engineering XP

New Provisioned Requisitions

8,500 K-13 Xenotech Research XP

New Provisioned Requisitions

Tier II

3,000 K-13 XP

Unlocks

New Provisioned Requisitions

Enhanced Biologist Facility

New Construction Projects

25,500 K-13 Retrofit Engineering XP

New Provisioned Requisitions

25,500 K-13 Xenotech Research XP

New Provisioned Requisitions

Tier III

6,000 K-13 XP

Unlocks

New Provisioned Requisitions

Superior Biologist Facility

New Construction Projects

Personal Tailor Contact (Also includes Unique Costume Unlock)

59,500 K-13 Retrofit Engineering XP

New Provisioned Requisitions

59,500 K-13 Xenotech Research XP

New Provisioned Requisitions
---
Hubs, Starbases and Adventure zones
Federation
Social
Earth Spacedock • Earth Spacedock (23rd Century) • Deep Space K-7 • Starbase 39 • Starfleet Academy • Starfleet Academy (23rd Century)
Mission
Facility 4028 • Deep Space K-13 • Delta Volanis Science Station • Donatu Research Station • Donia Space Station • Sierra Outpost II • Starbase 1 • Starbase 24 • Starbase 80 • Starbase 82 • Starbase 114 • Starbase 157 • Starbase 234 • Starbase 236 • Starbase 375 • Starbase 621 • Korvat Medical Lab • Omar Space Station • Outpost Quebec Alpha • Penal Colony 47 • San Francisco Fleet Yards • Tazi Space Station • Treasure Trading Station • Utopia Planitia Shipyards • Vulcan Space Dock
Klingon
Social
First City (Qo'noS) • Ganalda Station • Klingon Academy
Mission
Lackey Listening Post • Bomari Listening Post
Romulan
Social
New Romulus Command • Romulan Flotilla
Mission
Gasko Station • Rh'Ihho Station • Vauthil Station • Virinat • The Vault
Other/
Neutral
Social
Captain's Table • Deep Space 9 • Delta Quadrant Command • Drozana Station • Dyson Sphere Joint Command • Hathon (Bajor) • Kobali City • Risa • New Romulus Staging Area • Paradise City
Adventure
Lohlunat Festival • New Romulus • Nimbus III • Q's Winter Wonderland • Solanae Dyson Sphere
Battle
Badlands Battlezone • Borg Invasion of Defera • Gamma Quadrant Battlezone • Kobali Prime • Tholian Incursion • Tzenkethi Battlezone • Voth Battlezone • Undine Battlezone
Mission
Deferi Outpost 3 • Dyson Sun Control • Kyana Research Station • Na'kuhl Temporal Facility • Outpost 001 • Station Alpha • Suliban Helix • Storage Facility Z98 • Terok Nor (mirror)
List of Fleet holdings
Image
Name (Added)
Departments
Tiers
Purchasable item category
Location
Starbase
(July 12, 2012)

Military




Engineering




Science

5
Ship Weapons, Deflectors, Engines, Shields, Elite Carrier Pets;
Ground Weapons, Body Armor, Personal Shields, Skill Boosts, Operational Assets
Aldebaran
& Archanis Sectors
Embassy
(November 13, 2012)

Recruitment




Diplomacy

3
Weapon Signature Nullifiers and Amplifiers
Romulan Kit Frames and Modules, Consumables, DOff Assignment Slots
Romulan Bridge Officers and Duty Officers
New Romulus
Dilithium Mine
(June 20, 2013)

Development




Trade

3
Fleet Warp Cores, Fleet Singularity Cores and Miner DOffs
Advanced Engineering Armor Consoles/Advanced Engineering RCS Consoles
Bajor Sector
Spire
(November 12, 2013)

Research




Operations

3
Fleet Plasma-Integrated Warp Cores, Fleet Thoron-Infused Singularity Cores
Advanced Tactical Vulnerability Consoles, Spire Hangar Pets, Voth duty officers
Spire Experimental and Prototype Kit Frames and Modules
Solanae Dyson Sphere
Research Lab
(July 16, 2015)

Research




Development

3
Versatile Kit Frames and Profession-Specific Modules
Strategic Secondary Deflectors, Particle Focuser Science Consoles
Additional slots for traits and R&D projects, Krenim BOffs and DOffs
Alsuran Sector
K-13
(October 25, 2016)

Xenotech




Retrofit

3
23rd Century Ground Weapons, Space Weapons
23rd Century BOffs, DOffs, Training Manuals, Kit Modules
Trait Enhancements, Xenotech Engineering Consoles
Draconis Sector
Colony World
(October 3, 2017)

Morale




Infrastructure




Renewable Energy

5
Lukari & Kentari Themed Ground Weapons, Personal Shields, Armor, Space Weapons
Protomatter Matrix Infuser Tactical Consoles; Protomatter Warp Cores, Singularity Cores
Deflectors, Secondary Deflectors, and Engines; Channeling Ship Shields
Lukari/Kentari Boffs, Kit Frames, Kit Modules & Training Manuals
Dranuur System