Fire Emblem Warriors: Three Hopes - The Loop
Play Sound

Deferi Outpost 3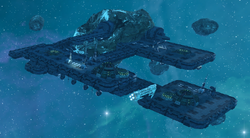 Deferi Outpost 3 is a Deferi installation in an asteroid belt in the Defera Sector. It is the supply depot for a mining operation on the largest asteroid and is protected by a grid of four defense arrays. In the Deferi conflict with the Breen, the outpost has become a main interest for raids. It would not last without constant Federation and Klingon patrols and maintenance.
System Description
[
]
Deferi Outpost 3 is an orbital station built by the Deferi to service and supply colony ships on their way to the worlds in the
Kelvani Belt
. The largest of the Deferi space stations, Outpost 3 has a population of 450 people, with an additional 20 miniers living on ships permanently assigned to collecting the ore from outlying asteroids.
NPCs
[
]
Missions Involved
[
]
"Outpost 3 Security": The four security arrays have been damaged and mined by the Breen. Maela asks the player to repair them.
"Aiding the Deferi (Daily)": The outpost is under constant attack by Breen forces. Freighters and their cargo are lost and Deferi Frigates become targets for Breen raiders.
---
Hubs, Starbases and Adventure zones
Federation
Social
Earth Spacedock • Earth Spacedock (23rd Century) • Deep Space K-7 • Starbase 39 • Starfleet Academy • Starfleet Academy (23rd Century)
Mission
Facility 4028 • Deep Space K-13 • Delta Volanis Science Station • Donatu Research Station • Donia Space Station • Jupiter Station • Sierra Outpost II • Starbase 1 • Starbase 24 • Starbase 80 • Starbase 82 • Starbase 114 • Starbase 157 • Starbase 234 • Starbase 236 • Starbase 375 • Starbase 621 • Korvat Medical Lab • Omar Space Station • Outpost Quebec Alpha • Penal Colony 47 • San Francisco Fleet Yards • Tazi Space Station • Treasure Trading Station • Utopia Planitia Shipyards • Vulcan Space Dock
Klingon
Social
First City (Qo'noS) • Ganalda Station • Klingon Academy
Mission
Lackey Listening Post • Bomari Listening Post
Romulan
Social
New Romulus Command • Romulan Flotilla
Mission
Gasko Station • Rh'Ihho Station • Vauthil Station • Virinat • The Vault
Other/
Neutral
Social
Captain's Table • Deep Space 9 • Delta Quadrant Command • Drozana Station • Dyson Sphere Joint Command • Hathon (Bajor) • Kobali City • Risa • New Romulus Staging Area • Paradise City
Adventure
Lohlunat Festival • New Romulus • Nimbus III • Q's Winter Wonderland • Solanae Dyson Sphere
Battle
Badlands Battlezone • Borg Invasion of Defera • Gamma Quadrant Battlezone • Kobali Prime • Tholian Incursion • Tzenkethi Battlezone • Voth Battlezone • Undine Battlezone
Mission
Deferi Outpost 3 • Dyson Sun Control • Kyana Research Station • Na'kuhl Temporal Facility • Outpost 001 • Station Alpha • Suliban Helix • Storage Facility Z98 • Terok Nor (mirror)