Desert Acari

Desert Acari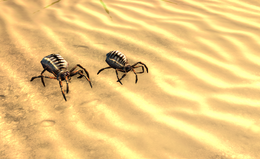 The Desert Acari is a large arachnid species native to arid areas and deserts.
Desert Acaris live in arid areas. They seem to dwell underground, particularly nesting in and under plants like Gourds.
The Desert Acari was among the many species brought to the Nopada System by the Iconians.
Desert Acaris are large arachnids. They sport a light body color with dark stripes and patterns.
As opposed to many other large spiders, Desert Acaris seem slightly less aggressive. In any natural environment they will not attack intruders unless they directly disturb their nesting grounds.
---