Dilithium Horta
Non-combat pet. The Dilithium Horta is an acidic silicon-based life-form first found on Janus VI. Hortas are difficult to detect with tricorders and their hardened skin is resistant to phaser fire. They tunnel through solid stone by secreting a corrosive acid that can also be used as a weapon. Usually found in caves and underground caverns, Hortas feed on the rocks and minerals found in their natural habitat. Horta are sentient and have life cycles that extend for thousands of years.
This one is unusually docile and radiates a pattern of high-energy photons banded around its dilithium crystal shell.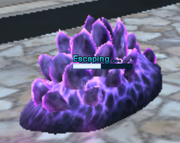 Dilithium Horta Summons your Horta pet, which appears to have at some point eaten a considerable pile of Dilithium Crystals. The Dilithium Horta does not have any offensive abilities and will go away when combat starts.
Toggle
Targets Self
0.25 sec activate
Summon Dilithium Horta
This item is available from [Special Requisition Pack - Dilithium Horta], which can be looted from a [Cardassian Lock Box].
This Horta subspecies was first seen in the 2 Year Anniversary Event. Unlike the others, this variant is purple. The name Dilithium Horta was later announced in a dev blog post. [1]
This Horta is different from the Dilithium Encrusted Horta "Combat Pet".
---
---