Dimorus System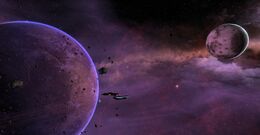 The Dimorus System is a system located in the Dimorus Sector of the Beta Quadrant.
System Description
[
]
The Dimorus system is comprised of two worlds in orbit of a Class-F star. Legends say that during the Sundering, a sword created by the great Vulcan weaponssmith S'harien was lost on Dimorus II during a battle between two noble houses. The winners of that battle went on to be the first rulers of Romulus.
The Romulan military has named the orbital space station here "S'harien" to honor the swordsmith.
Gallery (pre-removal)
[
]
Notes
[
]
External links
[
]