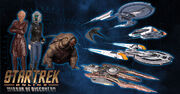 The Discovery Operations Pack is a discount pack that launched during the 9 Year Anniversary Event as part of the Age of Discovery multi-season update. It contains four new starships, two bridge officers with costume unlocks, four exclusive titles and an exclusive skin for the Walker-class, as well as the contents of the Age of Discovery Starter Pack and a few one-time extras. It can be purchased for 12,000

in the C-Store. If you've purchased the Age of Discovery Starter Pack already, the price of the Operations Pack will be discounted by the price of the Starter Pack. Deck out your Captain and Crew with these Discovery themed items!
Account-wide unlocks
[
]
Exclusives
[
]
These things are exclusive to this pack.
One-time unlocks
[
]
External Links
[
]
---
Starter and Expansion Packs
Faction Packs
(PC)
Federation Basic Starter Pack • Elite Starter Pack • Fleet Admiral Faction Pack
Klingon Defense Force Elite Starter Pack • Dahar Master Faction Pack
Romulan Legacy Elite Starter Pack • Fleet Admiral Faction Pack
Faction Packs
(PS4 & Xbox One)
Federation Starter Pack • Federation Pack
Klingon Defense Force Starter Pack • Klingon Empire Pack
Romulan Legacy Starter Pack • Romulan Legacy Pack
Legacy of Romulus
PC-only: Legacy of Romulus Starter Pack • Legacy of Romulus Legacy Pack
Delta Rising
PC-only: Delta Operations Pack
Agents Of Yesterday
Temporal Agent Starter Pack • Temporal Special Agent Pack
Victory is Life
Gamma Vanguard Starter Pack • Gamma Vanguard Pack
Age of Discovery
Age of Discovery Starter Pack • Discovery Operations Pack
Discovery Expedition Pack (PS4-only) • Cobalt and Verdant Packs (PS4 and Xbox One-only)
Services
Elite Services Starter Pack
Elite Starter Pack (Retired)
See also: Legendary, Lobi, Mudd's Market, Other Zen-Store