Drek'Hi Dreadnought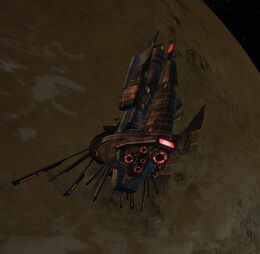 The Drek'Hi Dreadnought is a large and heavily armed dreadnought used by the Fek'Ihri Horde. It is technologically equivalent to the Gorn Balaur Dreadnought.
Drek'Hi Dreadnoughts use a broad range of abilities, inlcuding Eject Warp Plasma and Fire at Will, and are armed with Antiproton, Chroniton, and Tricobalt Torpedo Launchers. Like the Kar'Fi Battle Carrier, it is capable of launching a squadron of S'Kul Fighters.
The Fek'Ihri Command Ship can be found in the Foundry, labelled Fek'Ihri Dreadnought.
Armament
[
]
Abilities
[
]
Hull
[
]
| Level | Standard Difficulty | Advanced Difficulty | Elite Difficulty |
| --- | --- | --- | --- |
| 50 | 310,133 | - | - |
| 52 | 322,358 | - | - |
Missions Encountered
[
]
Vessels of the class
[
]
Gallery
[
]
See also
[
]