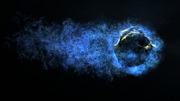 Driffen's Comet is a small comet located in the Drozana System. The comet is remarkable in that it is a source of naturally occurring triolic wave energy.
Missions Involved
[
]
Notes
[
]
Upon destruction, the comet will split into three fragments (which themselves will split into three shards).
In "Spin the Wheel", Belan tells the player that Driffen's Comet last passed near the station in 2270; however "Everything Old is New" and "Night of the Comet" establish the date as 2265. Apparently Belan was mistaken.