Overview
[
]
Dual Cannons have the smallest firing arc of any other weapon (except for Dual Heavy Cannons, which are the same)—45°—but have a larger damage potential than most other starship weapons. Not all starships can equip Dual Cannons.
Dual Cannons, Dual Beam Banks, Cannons, and Dual Heavy Cannons can not be mounted in aft (rear facing) weapon slots.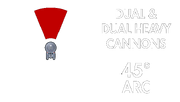 Damage Types
[
]
There are several types of Dual Cannons available, each of which are listed below. Each type of Dual Cannons offers a different proc (random chance for an attack bonus). The damage done by these weapons is modified by several Modifiers, Skills from the skill tables and certain Consoles. The baseline damage is dependent on the weapon's Mark level and its rarity.
For more information on the base damage done by Dual Cannons weapons, see the respective weapon type articles.
Performance
[
]
Uncommon Dual Cannons will have one modifier suffix, Rare will have two, Very Rare will have three, and Ultra Rare will have four. Epic adds a fifth unique modifier.
Standard Modifiers: Can appear multiple times (e.g. [Acc]x2, [CrtH]x3, [CrtD]x4 etc)
[Acc]

: +10 Accuracy Rating

[CrtD]

: +20% Critical Severity

[CrtH]

: +2% Critical Chance

[Dmg]

: +X Damage
Special Crafted Modifiers: These modifiers can appear once on crafted Dual Cannons of Rare quality and higher:
[Over]

:

[Beam]

2.5% Chance: Upgrades your next beam attack. Deals massive Energy Damage, but drains your Weapon Power.

[Pen]

: All attacks with this weapon ignore 10 Armor Rating

[Rapid]

:

[Cannon/Turret]

2.5% Chance: Activates Rapid Fire mode for all cannons on your ship for 2 seconds

[Snare]

: to target: -5% Speed and Turn Rate on hit

[Thrust]

: to self: +5% Speed and Turn Rate when firing
Epic Modifier: All energy weapons upgraded to Epic quality receive:
[Ac/Dm]

: +10 Accuracy Rating and +X Damage
Re-engineering options:

[Ac/Dm], [Ac/CrtD], [Ac/CrtH], [CrtD/Dm], [CrtH/CrtD], [CrtH/Dm].
Consoles enhancing damage
[
]
Consoles enhancing accuracy
[
]
Consoles enhancing CrtH/CrtD
[
]
Base Damage Table
[
]
All values given are for Common Dual Cannons at 100 Weapon Power. There is greater damage with increasing rarity.
Rank
Mark

DPV

DPS

None
I
208
250
II
227
273
Lt. Cmdr.
III
247
296
IV
266
320
Commander
V
286
343
VI
306
366
Captain
VII
325
390
VIII
345
414
Lower Half
Rear Admiral
Upper Half
IX
364
438
X
384
461
XI
404
484
XII
423
508
Vice Admiral
XIII
528
634
XIV
634
760
Fleet Admiral
XV
739
886
---
Starship Energy weapons
Energy Type
Beam
Cannon
Array & Omni
Dual Bank
Turret
Single
Dual & Quad
Dual Heavy
Standard Energy weapons
Phaser
Disruptor
Plasma
Tetryon
Polaron
Antiproton
Proton
 
 
 
Kinetic
 
 
 
 
 
Cosmetics Energy Weapons (different visuals)
These weapons are functionally identical to the Standard Energy Weapons above, but are visually different when firing. This includes most 23rd-century weaponry, with the exception of the 23rd century Plasma Torpedo Launcher in the section below and most Discovery-era weapons.
Phaser
Disruptor
Plasma
Hybrid Energy Weapons (two standard procs)
Disruptor
-based
Plasma
-based
Tetryon
-based
Polaron
-based
Elite Fleet Energy Weapons (standard + extra proc)
Phaser
Disruptor
Plasma
Tetryon
Polaron
Antiproton
Special Energy Weapons (standard + extra proc)
Phaser
-based
Disruptor
-based
Plasma
-based
 
 
 
 
 
Tetryon
-based
Antoproton
-based
 
 
 
 
 
Special Energy Weapons (non-standard proc[s])
Phaser
-based
 
 
 
Phaser
-based

Disruptor
-based
Disruptor
-based

Plasma
-based
Plasma
-based

Plasma
-based
&
Tetryon
-based
 
Tetryon
-based

Polaron
-based
Polaron
-based

Antiproton
-based
Antiproton
-based