Raise a Floppa - The Loop
Play Sound

Dukan'Rex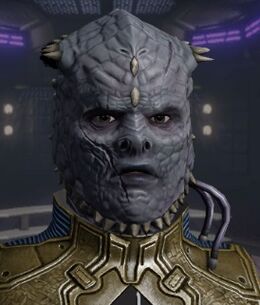 Military Rank:
Elder First
Profession(s):
Mission giver
Mission contact
Dukan'Rex is an Elder First Jem'Hadar part of Odo's fleet. He is the most senior Jem'Hadar serving Odo and acts as one of the mission givers for Dominion players.
Background
[
]
2371: The yet to be named Dukan'Rex is found by Quark as a child in some salvage he has purchased, and is later cared for by Doctor Julian Bashir. The child's heritage is unknown, but after a period of rapid maturation, the crew soon realise that the child is a Jem'Hadar. He is taken into Odo's care, given the boy's natural deference to his species. However, his violent instincts cannot easily be contained and Starfleet Security become interested in studying him. Eventually, Benjamin Sisko and Odo allow the boy to flee the station and return to the Dominion before Starfleet can arrive. (

The Abandoned

)
Missions given
[
]
Missions involved
[
]
Engineered for War
[
]
"Hunt": Dukan'Rex oversees the player's exercise on becoming First.
"Ceremony": Dukan'Rex is present during the player's promotion to First.
"Turn the Tide": Dukan'Rex joins the player in Odo's fleet to defend Bajor.
Gamma Quadrant
[
]
During each of the missions in Gamma Quadrant episode arc,

Gamma Recruits

are contacted by Dukan'Rex.
"Storm Clouds Gather": Dukan'Rex is present at the Alliance summit on DS9.
"The Search": Dukan'Rex joins the Dominion-Alliance team investigating the Hur'q in the outer-Dominion planets.
"Doomed to Repeat": Dukan'Rex escorts Odo in the investigation of the Ancient Dominion Station.
"Tenebris Torquent": Dukan'Rex forms part of the team investigating Havas-Kul.
"Home": During the defense of the Founders' Homeworld, Dukan'Rex and Dr. Julian Bashir board a Hur'q capital vessel to provide them with a cure to their mental situation. However, Weyoun vaporizes the package and orders Dukan'Rex to defend him, who shoots him instead. Afterwards, Dukan'Rex sacrifices himself by providing the Hur'q with the knowledge of Ketracel White contained in his body.
Other involvement
[
]
Notes
[
]
External link
[
]
---
---