Raise a Floppa - The Loop
Play Sound

For its 23rd century counterpart, see
Earth Spacedock (23rd Century)
.
Earth Spacedock is a facility orbiting Earth in the Sol System and serves as the main hub for all Federation players.
General information
[
]
Although Earth Spacedock's main frame has originally been constructed sometime prior to 2285, it has since been outfitted with state-of-the-art technology. As of 2410, the commanding officer of the station is Captain Akira Sulu who handles organisational businesses for the station's Commander-in-Chief Fleet Admiral Jorel Quinn.
Earth Spacedock is one of Starfleet's largest orbital installations. Its beam and draft are 3,812 m and 5,544 m, respectively, with a total dry mass of 10,552,000 t. It offers a volume of 21,924,000 m³ and has a complement of 312,000.
Starships in the vicinity
[
]
Locations
[
]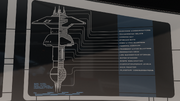 Earth Spacedock has the following accessible areas:
Transporter Room
[
]
This is the room you are first in when you beam down to Earth Spacedock. You can also beam down to Starfleet Academy from there.
Main concourse & Shipyard
[
]
The Main Concourse is the central plaza of Earth Spacedock's deck 47. At the Shipyard, players can select and customize their starship, as well as obtain new vessels.
Infirmary
[
]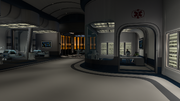 Requisitions & Exchange
[
]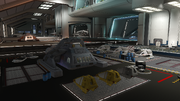 This is where players may purchase personal kits and equipment, as well as alter their appearance and costume, for a price. Players will also find the bank, their fleet bank, and the Exchange, where players purchase and sell items with other players.
Operations & Admiral's Office
[
]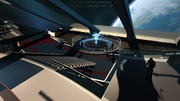 In Operations, which is the location of the Admiral's Office, players can talk to Admiral Quinn and get information on what to do once they're commanding their first vessel.
Club 47 & Rondel
[
]
Mezzanine
[
]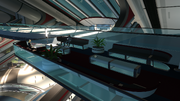 The Mezzanine is an elevated walkway accessible via the turbolifts. It allows an overview over the entire main concourse and shipyard. It offers seating areas, including a 3D-chess table, and is designed as a hang-out and relaxation area. It also contains a memorial plaque, dedicated to deceased Star Trek cast and crew.

Missions involved
[
]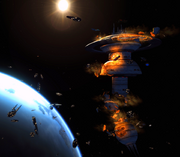 Other involvement
[
]
Notes
[
]
See also
[
]
External Links
[
]
---
Hubs, Starbases and Adventure zones
Federation
Social
Earth Spacedock • Earth Spacedock (23rd Century) • Deep Space K-7 • Starbase 39 • Starfleet Academy • Starfleet Academy (23rd Century)
Mission
Facility 4028 • Deep Space K-13 • Delta Volanis Science Station • Donatu Research Station • Donia Space Station • Jupiter Station • Sierra Outpost II • Starbase 1 • Starbase 24 • Starbase 80 • Starbase 82 • Starbase 114 • Starbase 157 • Starbase 234 • Starbase 236 • Starbase 375 • Starbase 621 • Korvat Medical Lab • Omar Space Station • Outpost Quebec Alpha • Penal Colony 47 • San Francisco Fleet Yards • Tazi Space Station • Treasure Trading Station • Utopia Planitia Shipyards • Vulcan Space Dock
Klingon
Social
First City (Qo'noS) • Ganalda Station • Klingon Academy
Mission
Lackey Listening Post • Bomari Listening Post
Romulan
Social
New Romulus Command • Romulan Flotilla
Mission
Gasko Station • Rh'Ihho Station • Vauthil Station • Virinat • The Vault
Other/
Neutral
Social
Captain's Table • Deep Space 9 • Delta Quadrant Command • Drozana Station • Dyson Sphere Joint Command • Hathon (Bajor) • Kobali City • Risa • New Romulus Staging Area • Paradise City
Adventure
Lohlunat Festival • New Romulus • Nimbus III • Q's Winter Wonderland • Solanae Dyson Sphere
Battle
Badlands Battlezone • Borg Invasion of Defera • Gamma Quadrant Battlezone • Kobali Prime • Tholian Incursion • Tzenkethi Battlezone • Voth Battlezone • Undine Battlezone
Mission
Deferi Outpost 3 • Dyson Sun Control • Kyana Research Station • Na'kuhl Temporal Facility • Outpost 001 • Station Alpha • Suliban Helix • Storage Facility Z98 • Terok Nor (mirror)