Fire Emblem Warriors: Three Hopes - The Loop
Play Sound

Garak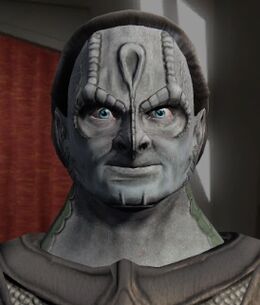 Profession(s):
Councillor
Elim Garak is a Cardassian politician and member of the Detapa Council.
History
[
]
A former member of the Obsidian Order, Garak was exiled from the Cardassian Union, and worked as a tailor on Deep Space 9 when it was under the control of the Bajorans, under Federation administration.
During the Dominion War, Garak provided assistance to the Federation, eventually playing a key role in the Cardassian revolt against the Dominion, and the liberation of his people.
By 2380, Garak was an advisor to the Cardassian government, supporting the fledgling democracy movement. It was his influence that allowed a Federation-sponsored agricultural project to proceed on Cardassia Prime.
Later, Garak was a prominent member of a coalition which was democratically elected to rule the Cardassian people. He was involved in a controversial decision to contribute ships to the Federation's recovery efforts in Romulan space.
On an unknown date, Franklin Drake, posing as a Federation Council liaison, escorted Jake Sisko to meet with Garak to discuss the Undine infiltration of the Alpha and Beta Quadrants.
Missions given
[
]
Missions involved
[
]
Other involvement
[
]
"Repeat Performance": Nereda and Drij visit Deep Space Nine in the 24th Century. They confront a Human named Borucki under the auspices of a Cardassian Legate and Orion civilian, respectively. With the assistance of Garak, Drij is able to pick Borucki's pocket during a staged interrogation, retrieving a bomb Borucki was unwittingly carrying for

Arne Darvin

, which would have destroyed all of the Bajoran Orbs, with the exception of the

Orb of Time

, which was in Darvin's possession. After the pair return to New Khitomer, Garak, who recognized Nereda from a years-earlier encounter, takes the opportunity afforded by the encounter to steal Nereda's mission recorder, and begins to download its contents.
Notes
[
]
Gallery
[
]
External links
[
]
---
---