Raise a Floppa - The Loop
Play Sound

Elisa Flores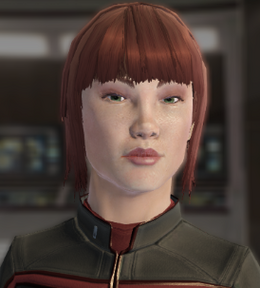 Military Rank:
Cadet / Ensign / Lieutenant / Lieutenant Commander / Commander
Profession(s):
Tactical Officer
Information Giver
Elisa Flores is a cadet and the player's best friend at Starfleet Academy. Also being in the class of 2409, she gets assigned as tactical officer to the same ship as the player and, later, becomes the first bridge officer for players of the Federation. Captain Masc Taggart notes that her record at the Academy has "a few blemishes."
Missions involved
[
]
"Graduation Day": Flores tells the player to talk to Razkii. Later, Captain Taggart selects her to serve as tactical officer on the first training cruise - exactly what she was hoping for. She subsequently initiates the player's advanced phaser training program.
"Training Cruise": Flores joins the player on the bridge as a member of Captain Taggart's senior staff. When the ship is attacked by Klingons and Cpt. Taggart is captured, Flores is able to lock on to his comm badge to locate Captain Kadek's cloaked ship. The player subsequently takes command of the ship and Flores is given a field promotion to Ensign, joining the crew as a bridge officer and first officer.
Traits
[
]
Items
[
]
Abilities
[
]
Notes
[
]
It is unknown whether Elisa Flores is related to Ensign Flores of the 23rd century-Federation tutorial.
Federation characters created before Season Eight: The Sphere, or that dismiss Elisa Flores, can (re-)obtain her by speaking with the Personnel Officer NPC contact at Starfleet Academy, seated and facing north (toward Commander Viala) in the same kiosk as Lt. Ferra and the duty officer Personnel Officer contact are located in. Clicking the "Put in Transfer Order for Elisa Flores" button will automatically add her to your crew.
Much like her Klingon counterpart, K'Gan, Elisa Flores has voiceovers during the tutorial missions, but not in the subsequent story missions. Like K'Gan, but unlike Tovan Khev of the Romulan Republic who has voice overs for most of the Romulan character gameplay and cannot be removed from your bridge officer slot, she can therefore be dismissed after the conclusion of the tutorial. However, it is not possible to rename her.