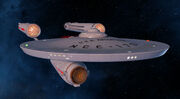 Enterprise was the designation of several famous Earth and Federation ships. Since the 23rd century the name was traditionally associated with the flagship of Starfleet.
List of Ships
[
]
Pre-warp
[
]
Starships
[
]
Missions involved
[
]
With the introduction of the 10th anniversary episode "The Measure of Morality (Part 2)", Only the U.S.S. Enterprise-A and U.S.S. Enterprise-B remains as the only canon Enterprise starships yet to be represented in the game.
The Enterprise-A and Enterprise-B, however, are depicted with other ships to bear the name on plaques in the interior of Federation Fleet starbases whose fleets have completed the special project "History and Movement".
Gallery
[
]
Notes
[
]
There have been two aircraft carriers named Enterprise (with a third under construction), but only the first nuclear-powered one, CVN-65, is mentioned in Star Trek Online.