Eric Cooper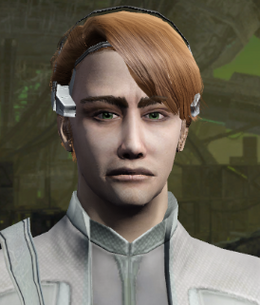 Profession(s):
Scientist
Infiltrator
"Doctor Eric Cooper" was a Human member of the Federation Science Council until he was replaced by an Undine infiltrator in 2409.
Missions involved
[
]
Notes
[
]
Assuming the Dr. Cooper encountered at the beginning of "A Gathering Darkness" is still the real person, there are two potential occasions when he was replaced by an Undine infiltrator. First, the Undine attack outside the compound on Omicron Kappa II during the afore mentioned mission, where the player simply finds Cooper "hiding away" upon arriving at the scene. Second, Cooper's re-appearance in a life pod after the Venture was destroyed in fluidic space during "Fluid Dynamics".
Given the Player personally speaks with Dr. Cooper in "A Gathering of Darkness" on several occasions and that the Undine infiltrator seemingly doesn't remember having met the Player in "A Step Between the Stars", it could either mean that he was replaced following the destruction of the Venture or that there's a serious continuity issue (it should be noted, though, that "A Step Between Stars" was released before the Borg mission arc was reworked).
Dr. Cooper's appearance was changed for "A Step Between Stars"; he previously had an appearance similar to a more generic Starfleet Science officer NPC.
A character who looks very similar to Dr. Cooper appears on Risa during the Lohlunat Festival. This might, of course, just be a coincidence or a joke by the Devs.
Gallery
[
]