Ethan Burgess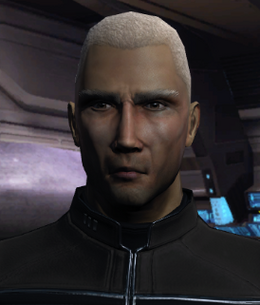 Profession(s):
Mission giver
Intelligence operative
Commander Ethan Burgess is a Starfleet Intelligence officer working with Admiral Quinn on operations on the Klingon front in 2409. He later directs Starfleet's efforts in exploring the newly-accessible Delta Quadrant.
Ethan grew up in London, which is also reflected in his British accent. He decided to join Starfleet after the Breen attack on Earth in 2375, as he realized that no place, not even Earth, is safe without people protecting it.
Missions given
[
]
Missions involved
[
]
Missions formerly involved
[
]
Notes
[
]
Even before Delta Rising made clear Cmdr. Burgess' first name is Ethan, Lore Volume 27, Chapter 4 suggested this.