Raise a Floppa - The Loop
Play Sound

Cruiser Refit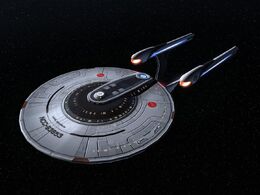 Matter-Antimatter
Constitution-class
 ~Cruiser Variants
The Exeter-class Cruiser Refit is a Tier 2 (Level 10) Cruiser which may be flown by Starfleet characters, including Federation-aligned Romulan Republic and Dominion characters. All faction restrictions of this starship can be removed by having a level 65 KDF character or by purchasing the Cross Faction Flying unlock from the Zen Store.
Players can obtain this starship from any Ship and Shuttle Requisitions officer for 37,500

 under the name Exeter Class Cruiser. This ship was previously available on its own from the Zen Store; players that purchased it from there can still reclaim it from there on all their characters.
Class variants
Class
Information

Constitution class refit

SKIN UNLOCK: Free

---

In the late 2260s to early 2270s, the Constitution class underwent its final major refit program. Essential upgrades were made to the Constitution-class' critical systems, some of which would be reflected on in Starfleet designs in the 25th century.

Players may also select the "Constitution Refit Beta" nacelles, which are permanently lit.

Excalibur class

SKIN UNLOCK: Free

---

The Excalibur class is well-suited for cargo or transport missions. Its expansive cargo holds make it indispensable to Starfleet as a vessel used to resupply planets, space stations, and other starships. The power systems make it possible to run industrial replicators indefinitely, making this class the ideal choice for evacuation and mercy missions.

Vesper class

SKIN UNLOCK: Free

---

The Vesper class is reminiscent of the Excelsior class line of ships. However the general layout reflects that of the more traditional Cruiser. The saucer, unlike that of the Excalibur, is completely round.

Exeter class

SKIN UNLOCK: Free with this starship

---

The Exeter class is a variant on the famed Constitution class. The Exeter honors the 400 crew members of the U.S.S. Exeter who were killed by a biological agent in 2268. The Exeter class has the white hull texture common to refit Federation vessels.
Abililites
[
]
Universal console
[
]
The Exeter-class Cruiser Refit comes equipped with a [Console - Universal - Ionized Gas Sensor] that provides a bonus to Starship Sensors and can modify a torpedo to track down and target a cloaked ship. The Ionized Gas Sensor can be equipped in any console slot of any vessel.
Cruiser commands
The Exeter-class Cruiser Refit supports the following cruiser commands:

Standard configuration
[
]
Federation starships come with standard equipment and weapons of the lowest mark available at the ship's minimum rank. The items provided are appropriate to the type of vessel and its related playing style.
Ship comparison
[
]
The following table compares Tier 2 Federation starships.
Ship

Rank

Tier

Hull

 
 
 

Uni

BOffs

IR

Cost

Nova Science Vessel

10

2
13500
0.9
1.3
2
2
✗
1
1
2
3
✗
✗
14
0.15
60
2,500  • 1
Cruiser Refit

10

2
19500
1.3
1
2
2
✗
1
2
2
4
✗
9
0.15
40
37,500
Rhode Island Science Vessel Refit

10

2
13500
0.9
1.3
2
2
✗
1
2
2
3
✗
15
0.2
60
37,500
Saber Escort

10

2
15000
1
0.9
3
1
✓
2
1
1
2
✗
✗
17
0.2
70
2,500  • 1
Cruiser

10

2
19500
1.3
1
2
2
✗
1
2
1
4
✗
✗
9
0.15
40
2,500  • 1
Daedalus Temporal Science Vessel

10

2
13200
0.88
1.32
2
2
✗
2
1
2
3
✗
16
0.2
65
37,500
Gladius Escort Refit

10

2
15000
1
0.9
3
1
✓
2
2
1
2
✗
17
0.2
70
37,500
Admiralty ship
[
]
Admiralty Ship
18
9
9
1.5x Critical Rating from SCI or TAC
Gallery
[
]