Fire Emblem Warriors: Three Hopes - The Loop
Play Sound

Ezri Dax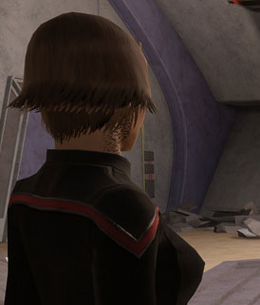 Captain Ezri Dax is a Starfleet captain. The ninth host of the Dax symbiont, she commands the U.S.S. Aventine. She is married to Doctor Julian Bashir, with whom she has children.
Personal History
[
]
Involvement
[
]
"Tales from K13 Part 3": Dax and the Aventine arrive at Deep Space K-13. There, she uses her personal experience as a counselor in Starfleet, as well as the combined life experiences of the Dax symbiont, to speak with Commander Krom and convince him that the Federation and Klingon Empire are now allies.
"Spores": Bashir finds himself trapped in a cavern, hanging upside-down from a bundle of alien mycelium. He calls the Aventine for assistance, and Captain Dax, coordinating with Captain Kuumaarke of the L.S.S. Reskava, works to rescue him. Once aboard the Aventine, Bashir speaks with his wife and Kuumaarke about unusual fungi that have been encountered recently, including the Elachi, the Imaga megafungi, and the ketracel precursor. Ezri mentions a scientist named Paul Stamets, who had theorized about a multidimensional mycelial network, and Bashir suggests the idea has merits, and that much of the fungi discovered throughout the galaxy may have a common progenitor.
Notes
[
]
The Path to 2409 establishes Ezri's retirement from Starfleet prior to 2401; however, Season 7 Dev Blog #12 and Tales from K-13 #3 confirm that she commands the Aventine during the events of the game.
See also
[
]
External links
[
]
---