GTA: The Criminal Enterprises - The Loop
Play Sound
The third Federation-Klingon War (2405-2410) began in early 2405 following a period of worsening relations between the United Federation of Planets and the Klingon Empire around the turn of the 25th Century.
Prelude
[
]
Brush wars
[
]
The Undine conspiracy
[
]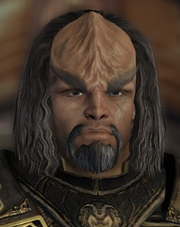 A number of current and former Starfleet officers including Ambassador Worf, Admirals

Beverly Crusher

,

Kathryn Janeway

and

Chakotay

and retired Captains

Ezri Dax

and Tuvok appeal to the Federation Council to reconsider its position on the Klingon-Gorn War. When they fail, Worf resigns his position with the Federation in protest and returns to Qo'noS.

2403:

The network of transport inhibitors protecting Gornar finally fails, allowing the Klingons to conquer and occupy the planet.
After arriving on Gornar, J'mpok orders a global broadcast during which the Klingons reveal that the Gorn prime minister, head of military intelligence and multiple other high-ranking government officials are Undine infiltrators. The infiltrators are then immediately executed.
J'mpok then offers the Hegemony self-rule as long as it swears fealty to the Klingon Empire. King Slathis agrees, and receives a non-voting seat on the High Council.
Open War
[
]
2404-2408
[
]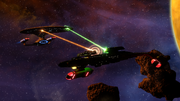 Much of Star Trek Online takes place during the war. As a result, expect spoilers ahead.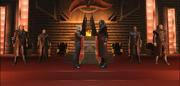 Further reading
[
]