Federation Battlecruiser
For the playable version, see Concorde, Presidio, and Geneva Command Battlecruiser.

Federation Battlecruiser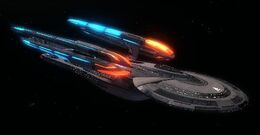 The Federation Battlecruiser is a line of advanced battleships used by Starfleet. In addition to the latest state-of-the-art systems and equipment, the ships hold a hangar for launching Peregrine-class Fighters.
Federation Battlecruisers can spawn in any encounter involving one or more Federation battleships. Each one is labelled according to its class by default.
The Federation Battlecruiser was added to the game in the Delta Rising expansion alongside the playable Concorde, Presidio, and Geneva Command Battlecruisers. It has largely replaced the older Typhoon-class battleship.
The 3D holographic traffic control display of ships orbiting Earth Space Dock, located in the administration section of Earth Space Dock, near Captain Sulu, show a Presidio Class starship, the USS Alameda, identified as an "Assault Flag Battlecruiser".
Playable version:
Other Federation battleship designs: