Federation Escort (Mob)
You may be looking for the playable version of the Federation Escort.

Federation Escort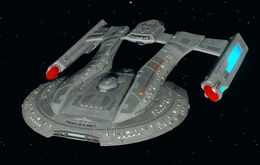 The Federation Escort is a Starfleet escort design. Escorts are powerful warships, capable of dealing heavy damage in hit-and-run attacks. They are less durable than cruisers and science vessels, but compensate for this in maneuverability and stopping power.
The appearance of the Federation Escort depends on its level, though its armament and abilities remain the same.
| Level | Standard Difficulty | Advanced Difficulty | Elite Difficulty |
| --- | --- | --- | --- |
| 5 | 8,399 | - | - |
| 31 | 19,257 | - | - |
Defiant-class
 ~Tactical Escort Variants
Akira-class
 ~Heavy Escort Variants
Federation Escorts can spawn in any encounter involving one or more cruiser-level Federation ships. The class varies depending on the player's rank. The ships are named according to their class.
With the release of Season Six: Under Siege, two new Federation Escort variants have been introduced. They have mostly the same weapons and abilities, plus one or more special abilities. They are both battleship-level mobs.