Fire Emblem Warriors: Three Hopes - The Loop
Play Sound

Female Changeling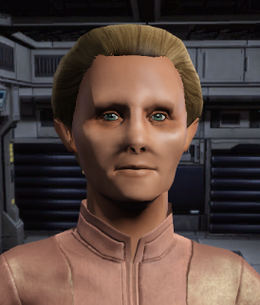 The Female Changeling is a Changeling captured by Starfleet in 2375.
History
[
]
The Female Changeling is a Changeling, and as one of the Founders, led the Dominion forces during the Dominion War. At the end of 2375, she surrendered to the Federation Alliance. On stardate 56867.84 (2379), the Female Changeling is tried for crimes against sentient beings in the Dominion War and sentenced to a facility at Ananke Alpha.
Health
[
]
Level
Standard Difficulty
Advanced Difficulty
Elite Difficulty
Shields
Health
Shields
Health
Shields
Health
-
-
-
-
-
-
-
Missions involved
[
]
Missions mentioned
[
]
Other involvement
[
]
"Season 5 Dev Blog #27": Doctor Philia Fer of Starfleet Medical sends a series of messages to Franklin Drake. Fer has declined Drake's request for recordings of counseling sessions with the Female Changeling held at Facility 4028; later, the requested information is sent to Drake from an unknown source.
"A Divided Duty": The Tzenkethi starship Fearless arrives at Kzuuln-5. The crystals the Tzenkethi are seeking have been detected on the planet, and it has therefore been marked for destruction. "Admiral Tzen-Tarrak's" science officer, Prult, raises objections to the assignment, as the primitive culture on the planet is attempting to contact them with messages of peace. Tzen-Tarrak ultimately relieves Prult of duty in order to ensure the mission proceeds as planned. Prult attacks the security guards escorting him through the ship, and rushes to the weapons bay to destroy the protomatter bomb. He believes he has succeeded, but discovers that the bomb was a decoy arranged by Tzen-Tarrak, who had anticipated some of his officers having second thoughts about their mission. Tzen-Tarrak executes Prult, and orders the bridge to resume their mission.
"The Missing Link": Nuno, a Founder, returns home with his ship and crew from a five-year Dominion exploration mission. Before he can rejoin the Great Link, he learns that the Dominion is at war with the Hur'q. Accessing a console, Nuno realizes that while the Dominion has officially maintained that the war is going well, far fewer vessels are returning from their deployments than are sent out. He is met by the Female Changeling and Odo; the Female Changeling tells him that the members of the Link are not to be "troubled" with the details of the war. Agreeing to keep the secret, Nuno decides not to rejoin the Link. Privately, Odo asks Nuno to tell him everything he has learned about the state of the war.
Gallery
[
]
External links
[
]
---