Ferra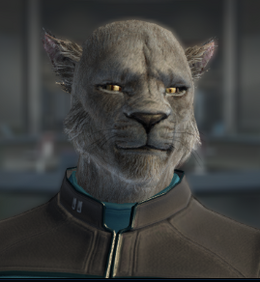 Military Rank:
Lieutenant
Profession(s):
Duty Officer Requisition
Mission giver
Lieutenant Ferra is a Caitian Starfleet officer found in the circular building in the northwest of the Starfleet Academy compounds.
He exchanges duty officers for commendations. Once a commendation category is unlocked, additional duty officers become available for purchase with dilithium. He also hands out the duty officer starter pack as well as the various level up packs to players.
Missions given
[
]
Missions involved
[
]
"Graduation Day": After asking them for their name and rank, Lt. Ferra directs new players to Captain Taggart's office.
Store
[
]
See also
[
]