Dranuur Prime Colony Fleet Holding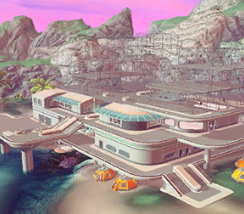 Dranuur Prime, The Fleet Colony World is a Lukari-Kentari themed fleet holding located in the Dranuur System, located in the Antos Sector of the Alpha Quadrant. It provides similar amenities as the Fleet Starbase, including mail, exchange, and bank terminals. Additionally, it is notable for being the first full five-tier holding since the Fleet Holding system was introduced.
Missions Involved
[
]
The following missions can be performed once an hour:
The Dranuur Colony also appears in the following missions:
Advancement
[
]
See also: List of colony world projects
Colony World holding features 5 tiers and 3 departments (Morale, Infrastructure and Renewable Energy), similar to the Fleet Starbase advancement process. The colony world primary track and its sub-tracks progress through the tiers by gaining XP in these categories. This is achieved by completing fleet projects requiring large amounts of various resources which can be contributed by all members of a fleet.
Unlike other fleet holdings, Colony World provisions can't be purchased from the replicator, but are instead available from the mini-games and missions mentioned in the section above.
Tier Requirements and Rewards
[
]
Fleet Colony World
Tier
Colony World

Morale

Infrastructure

Renewable Energy

Tier I

1,000 Colony World XP

Unlocks

Colony Exterior I
Colony Invasion Shield Array Tier I
Mail
Ship Selector
Transporter to Fleet Starbase

New Projects:

Colony Invasion Defense Provision I

10,000 Colony Morale XP

Unlocks

Morale Center I
Automated Luxury Goods Collection at a rate of 1125 per Day
Colony Invasion Defense Shield Generator Tier I
Fishing Area

New Construction Projects

Fleet Provisioning Bonus I (Fleet Provision Project Yield Bonus 5%)
Tactical Duty Officer Contact

New Projects

10,000 Colony Infrastructure XP

Unlocks

Infrastructure I
Automated Ore Collection at a rate of 1125 per Day
Fleet Project Logistics I (Fleet Project Duration Reduction 5%)
Colony Invasion Defense Plasma Mortar Tier II
Starship Repair: Minor
Ore Mine

New Construction Projects

Engineering Duty Officer Contact

New Projects

10,000 Colony Renewable Energy

Unlocks

Renewable Resources I
Automated Battery Collection at a rate of 1125 per Day
Colony Invasion Defense Polaron Burst Turret Tier I
Sickbay: Minor
Hydroponics Center

New Construction Projects

Science Duty Officer Contact

New Projects

Tier II

4,000 Colony XP

Unlocks

Colony Exterior II
Colony Invasion Defense Shield Array Tier II
Bank

New Construction Projects

Personnel Officer
Beach Access

New Projects:

Colony Invasion Defense Provision II

25,000 Colony Morale XP

Unlocks

Morale Center II
Automated Luxury Goods Collection at a rate of 2250 per Day
Colony Invasion Defense Shield Generator Tier II
Greenhouse

New Construction Projects

Fleet Provisioning Bonus II (Fleet Provision Project Yield Bonus 10%)
Bartender (Must have Bar built)

New Projects

25,000 Colony Infrastructure XP

Unlocks

Infrastructure II
Automated Ore Collection at a rate of 2250 per Day
Fleet Project Logistics II (Fleet Project Duration Reduction 10%)
Colony Invasion Defense Plasma Mortar Tier II
Starship Repair: Major
Bridges
Improved Roads

New Projects

Elite Fleet Rifles
Elite Fleet Personal Shields

25,000 Colony Renewable Energy XP

Unlocks

Renewable Resources II
Automated Battery Collection at a rate of 2250 per Day
Colony Invasion Defense Polaron Burst Turret Tier II
Sickbay: Major
Solar Panels

New Projects

Elite Fleet Space Shields

Tier III

7,000 Colony XP

Unlocks

Colony Exterior III
Colony Invasion Shield Array Tier III
Fleet Costume Options (Colony Tailor must be unlocked for access)

50,000 Colony Morale XP

Unlocks

Morale Center III
Automated Luxury Goods Collection at a rate of 3000 per Day
Colony Invasion Defense Shield Generator Tier III
Flags and Banners

New Construction Projects

Fleet Provisioning Bonus III (Fleet Provision Project Yield Bonus 15%)
Ship Tailor
Personal Tailor

New Projects

Elite Fleet Colony Training Manuals

50,000 Colony Infrastructure XP

Unlocks

Infrastructure III
Automated Ore Collection at a rate of 3000 per Day
Fleet Project Logistics III (Fleet Project Duration Reduction 15%)
Colony Invasion Defense Plasma Mortar Tier III
Starship Repair: Critical
Docks
Lighthouse

New Projects

Elite Fleet Assault Weapons
Elite Fleet Personal Armor

50,000 Colony Renewable Energy

Unlocks

Renewable Resources III
Automated Battery Collection at a rate of 3000 per Day
Colony Invasion Defense Polaron Burst Turret Tier III
Sickbay: Critical
Hydro-Electric Dam

New Projects

Tier IV

10,000 Colony XP

Unlocks

Colony Exterior IV
Colony Invasion Shield Array Tier IV

New Construction Projects

New Projects:

Colony Invasion Defense Provision IV

100,000 Colony Morale XP

Unlocks

Morale Center IV
Automated Luxury Goods Collection at a rate of 3375 per Day
Colony Invasion Defense Shield Generator Tier IV
Shuttle Traders

New Construction Projects

Fleet Provisioning Bonus IV (Fleet Provision Project Yield Bonus 20%)
Chef (Must have Bar built)

New Projects

Very Rare Lukari Bridge Officers

100,000 Colony Infrastructure XP

Unlocks

Infrastructure IV
Automated Ore Collection at a rate of 3375 per Day
Fleet Project Logistics IV (Fleet Project Duration Reduction 20%)
Colony Invasion Defense Plasma Mortar Tier IV
Boats

New Projects

Elite Space Projectile Weapons

100,000 Colony Renewable Energy

Unlocks

Renewable Resources IV
Automated Battery Collection at a rate of 3375 per Day
Colony Invasion Defense Polaron Burst Turret Tier IV
Water Turbine

New Projects

Elite Fleet Space Engines

Tier V

13,000 Colony XP

Unlocks

Colony Exterior V
Colony Invasion Shield Array Tier V

New Projects:

Colony Invasion Defense Provision V
Lukari Ship

250,000 Colony Morale XP

Unlocks

Morale Center V
Automated Luxury Goods Collection at a rate of 3750 per Day
Colony Invasion Defense Shield Generator Tier V
Space Station
Space Elevator

New Construction Projects

Fleet Provisioning Bonus V (Fleet Provision Project Yield Bonus 25%)

New Projects

Very Rare Kentari Bridge Officers

250,000 Colony Infrastructure XP

Unlocks

Infrastructure V
Automated Ore Collection at a rate of 3750 per Day
Fleet Project Logistics V (Fleet Project Duration Reduction 25%)
Colony Invasion Defense Plasma Mortar Tier V
Colony Transporters

New Projects

Elite Fleet Space Energy Weapons

250,000 Colony Renewable Energy

Unlocks

Renewable Resources V
Automated Battery Collection at a rate of 3750 per Day
Colony Invasion Defense Polaron Burst Turret Tier V
Geothermal Plant

New Projects

Elite Fleet Space Tactical Consoles
Notes
[
]
External links
[
]
List of Fleet holdings
Image
Name (Added)
Departments
Tiers
Purchasable item category
Location
Starbase
(July 12, 2012)

Military




Engineering




Science

5
Ship Weapons, Deflectors, Engines, Shields, Elite Carrier Pets;
Ground Weapons, Body Armor, Personal Shields, Skill Boosts, Operational Assets
Aldebaran
& Archanis Sectors
Embassy
(November 13, 2012)

Recruitment




Diplomacy

3
Weapon Signature Nullifiers and Amplifiers
Romulan Kit Frames and Modules, Consumables, DOff Assignment Slots
Romulan Bridge Officers and Duty Officers
New Romulus
Dilithium Mine
(June 20, 2013)

Development




Trade

3
Fleet Warp Cores, Fleet Singularity Cores and Miner DOffs
Advanced Engineering Armor Consoles/Advanced Engineering RCS Consoles
Bajor Sector
Spire
(November 12, 2013)

Research




Operations

3
Fleet Plasma-Integrated Warp Cores, Fleet Thoron-Infused Singularity Cores
Advanced Tactical Vulnerability Consoles, Spire Hangar Pets, Voth duty officers
Spire Experimental and Prototype Kit Frames and Modules
Solanae Dyson Sphere
Research Lab
(July 16, 2015)

Research




Development

3
Versatile Kit Frames and Profession-Specific Modules
Strategic Secondary Deflectors, Particle Focuser Science Consoles
Additional slots for traits and R&D projects, Krenim BOffs and DOffs
Alsuran Sector
K-13
(October 25, 2016)

Xenotech




Retrofit

3
23rd Century Ground Weapons, Space Weapons
23rd Century BOffs, DOffs, Training Manuals, Kit Modules
Trait Enhancements, Xenotech Engineering Consoles
Draconis Sector
Colony World
(October 3, 2017)

Morale




Infrastructure




Renewable Energy

5
Lukari & Kentari Themed Ground Weapons, Personal Shields, Armor, Space Weapons
Protomatter Matrix Infuser Tactical Consoles; Protomatter Warp Cores, Singularity Cores
Deflectors, Secondary Deflectors, and Engines; Channeling Ship Shields
Lukari/Kentari Boffs, Kit Frames, Kit Modules & Training Manuals
Dranuur System