Raise a Floppa - The Loop
Play Sound

Fleet HoH'SuS Bird-of-Prey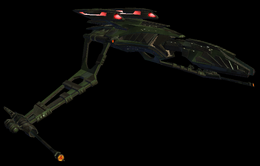 Requires an
Upgrade Token
Hull:

| | |
| --- | --- |
| Tier 5: | 27225 |
| Lvl 50 T5U: | 31309 |
| Lvl 55 T5U: | 33804 |
| Lvl 60 T5U: | 36300 |
| Lvl 65 T5U: | 40838 |
Matter-Antimatter
Battle Cloak
Bird-of-Prey-class
 ~Klingon Raider Variants

This article is about the
playable starship
. For the
NPC
vessel, see
Klingon Bird-of-Prey (Mob)
.
The Fleet HoH'SuS-class Bird-of-Prey is a Tier 5 (Level 50) Raider which may be flown by Klingon Defense Force characters, including Klingon Empire-aligned Romulan Republic and Dominion characters. All faction restrictions of this starship can be removed by having a level 65 KDF character or by purchasing the Cross Faction Flying unlock from the Zen Store.
Players can obtain this starship from any Ship and Shuttle Requisitions officer for 20,000

 and 4
, so long as the player's Fleet has a Tier V Shipyard and one Starbase Military Fleet Ship Provision.
Overview
[
]
Birds-of-Prey are small, fast and fill a variety of roles for the Empire. They can be used as scouts, raiders or patrol ships. They're vulnerable when cloaked, but their speed and maneuverability make them hard to hit. Also, the Bridge Officer spaces on a Bird-of-Prey are mostly universal, which makes them more versatile.
The HoH'SuS-class Bird-of-Prey was originally designed to launch from the aft section of the Bortasqu'-class War Cruiser, but is quite capable of operating without its mother ship.
Klingon Empire Fleets have made further upgrades to the HoH'SuS class. These Fleet Starships are built to the highest standard and have increased Hull Hit Points, Shield Strength and an additional Engineering Console slot.
Class variants
[
]
Class
Information

HoH'SuS class

SKIN UNLOCK: Free

---

The HoH'SuS class has a notably stripped-down appearance in comparison to other Birds-of-Prey, with obvious gaps in the wings giving them a practically skeletal appearance. Unlike other Birds-of-Prey, the feather pattern is displayed on the "head" section and main hull rather than the wings.
Starship Mastery
[
]
Starship Mastery
RAIDER
Level
Name
Description
I
Precise Weapon Systems
+5 Accuracy Rating.
II
Tactical Maneuevering
+5% Defense.
III
Enhanced Weapon Systems
+10% Kinetic Damage.
+10% All Energy Damage.
IV
Enhanced Weapon Banks
+15% Critical Severity.
Abilities
[
]
Battle Cloak
The Fleet HoH'SuS-class Bird-of-Prey has a battle cloak that allows the ship to cloak during combat, granting stealth and a damage bonus upon decloaking.
Experimental Weapon
[
]
The Fleet HoH'SuS-class Bird-of-Prey comes with an Experimental Weapon slot. This additional slot does not fit standard weapons. Unlike standard starship weapons, Experimental weapons are not affected by weapon firing modes, such as those granted by bridge officer abilities.
Raider Flanking
Frigates, Light Escorts, Raiders, and Scout Ships come with a built-in passive damage boost available when striking an enemy's rear arc. To support their high turn rate and maneuverability, standard raider flanking grants:
+33% damage to NPC enemy when attacking rear arc.
+11% damage to Player enemy when attacking rear arc.
Standard configuration
[
]
Klingon starships come with standard equipment and weapons of the lowest mark available at the ship's minimum rank. The items provided are appropriate to the type of vessel and its related playing style.
T5-X upgrade
By using an [Experimental Ship Upgrade Token], the Fleet HoH'SuS-class Bird-of-Prey may be upgraded to T5-X, unlocking an extra ship device slot, universal console slot, and the ability to slot an extra starship trait.
Ship comparison
[
]
The following table compares the high-tier KDF Raiders.
Ship

Rank

Tier

Hull

 
 
 

Uni

BOffs

IR

Cost

Hegh'ta Heavy Bird-of-Prey

40

5
26400
0.88
0.8
4
2
✓
3
3
3
2
✗
✗
21
0.2
60
20,000  • 1
B'rel Bird-of-Prey Retrofit

50

5
24750
0.825
0.8
4
2
✓
3
3
3
2
✗
✗
23
0.2
80
2,000  • 1
HoH'SuS Bird-of-Prey

50

5
24750
0.825
0.8
4
2
✓
4
2
3
2
✗
✗
21
0.2
70
200,000
Fleet HoH'SuS Bird-of-Prey

50

5
27225
0.908
0.88
4
2
✓
4
3
3
2
✗
✗
21
0.2
70
20,000  • 4
B'rel Fleet Bird-of-Prey Retrofit

50

5
27225
0.908
0.88
4
2
✓
3
4
3
2
✗
✗
23
0.2
80
20,000  • 4
Fleet Norgh Bird-of-Prey Retrofit

50

5
27225
0.908
0.88
4
2
✓
3
3
3
2
✗
✗
22
0.2
70
20,000  • 4
Kor Bird-of-Prey

1

6
28463
0.825
0.8
4
2
✓
4
3
3
2
✗
23
0.2
80
3,000
Fleet B'rel Bird-of-Prey

1

6
31309
0.908
0.88
4
2
✓
4
4
3
2
✗
✗
23
0.2
80
20,000  • 5
M'Chla Bird-of-Prey Refit

1

6
32775
0.95
0.8
4
2
✓
4
3
2
2
✗
20
0.21
85
1
M'Chla Pilot Bird-of-Prey

1

6
32775
0.95
0.8
4
2
✓
4
3
3
2
✗
21
0.23
80
3,000
Fleet M'Chla Pilot Bird-of-Prey

1

6
36053
1.045
0.88
4
2
✓
5
3
3
2
✗
✗
21
0.23
80
20,000  • 5
Legendary B'rel Pilot Bird-of-Prey

1

6
32775
0.95
0.85
4
2
✓
5
4
2
2
✗
23.5
0.2
80
25,000
Mirror Ki'tang Bird-of-Prey Retrofit

40

5
24750
0.825
0.8
4
2
✓
4
3
2
2
✗
✗
21
0.2
Kelvin D4x Pilot Bird-of-Prey

1

6
30360
0.88
0.95
5
1
✓
5
3
3
2
✗
22
0.24
80
• 29,500
Admiralty ship
[
]
Admiralty Ship
27
48
23
+8 TAC per SciShip or TacShip