Fire Emblem Warriors: Three Hopes - The Loop
Play Sound

Fleet Support Cruiser Retrofit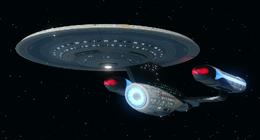 Requires an
Upgrade Token
Hull:

| | |
| --- | --- |
| Tier 5: | 43450 |
| Lvl 50 T5U: | 49967 |
| Lvl 55 T5U: | 53950 |
| Lvl 60 T5U: | 57933 |
| Lvl 65 T5U: | 65175 |
Matter-Antimatter
Ambassador-class
 ~Support Cruiser Variants
Tier 5 Variants
Fleet Yamaguchi Support Cruiser Retrofit

This article is about the T5
playable starship
. For the improved T6 version, see
Fleet Yamaguchi Support Cruiser
. For other uses, see
Ambassador class
.
The Fleet Yamaguchi-class Support Cruiser Retrofit is a Tier 5 (Level 50) Cruiser which may be flown by Starfleet characters, including Federation-aligned Romulan Republic and Dominion characters. All faction restrictions of this starship can be removed by having a level 65 KDF character or by purchasing the Cross Faction Flying unlock from the Zen Store.
Players can obtain this starship from any Ship and Shuttle Requisitions officer for 20,000

 and 4
, so long as the player's Fleet has a Tier III Starbase Shipyard and one Starbase Military Fleet Ship Provision. Owning the Ambassador-class Support Cruiser Retrofit from completing "Temporal Ambassador" during the 3 Year Anniversary Event does NOT reduce the Fleet Ship Module cost.
Class variants
Class
Information

---

Purchasing the Legendary Ambassador Intel Support Cruiser for 25,000 unlocks all existing ship variants.

---

Ambassador class

SKIN UNLOCK: Free

---

Developed at the San Francisco Fleet Yards, the most iconic Ambassador-class starship to be commissioned by Starfleet was the U.S.S. Enterprise-C, destroyed in battle in 2344 while protecting the Klingon colony on Narendra III from a Romulan attack. All hands were presumed to be killed in action, the valorous sacrifice bringing the Federation several decades of peace with the Klingon Empire.

Yamaguchi class

SKIN UNLOCK: Free with this starship
OR T6 Fleet Yamaguchi Support Cruiser, 20,000 , 5

---

The Yamaguchi variant of the Ambassador-class cruiser saw service in the Battle of Wolf 359 and was utilized throughout the Dominion War. Visual differences include lower, differently shaped warp nacelle pylons, "capped"

Bussard collector

s on its warp nacelles, as well as alterations to the vessels' neck and saucer section.

Narendra class

SKIN UNLOCK: Narendra Support Cruiser, 3,000

---

This pathfinding design, overseen by Captain A. Probert in 2319, was revolutionary but deemed "ahead of its time." Its fluid hull forms pioneered spaceframe advancements later implemented in the Galaxy-class starship, but material, power and logistical problems all manifested simultaneously, requiring a massive redesign to subsequent vessels of the class.

This variant faithfully represents the look of the original Andrew Probert-created concept for the Ambassador-class.

Narendra class
Beta


SKIN UNLOCK: Narendra Support Cruiser, 3,000

---

Despite being labelled "Beta" this is the default look for the Narendra-class, in 25th century livery. These Beta parts are the original release parts for the Narendra, which "interact with existing materials differently" and have been preserved for use.

Horatio class

SKIN UNLOCK: Legendary Ambassador Intel Support Cruiser, 25,000

---

Recent efforts to revitalize an old set of plans for the Ambassador class yielded the Narendra-class Support cruiser. While the Narendra performed well during its initial deployment, the Advanced Starship Development Board felt the design's use of early-24th Century assumptions put it at a bit of a disadvantage compared to newer cruisers. Starfleet still desperately needed more medium-sized units to backfill its long-range exploration and support needs, and a medium-tonnage cruiser meant more ships could be built and crewed faster.

Starfleet engineers took the lessons learned from the Narendra and iterated on them in a new cruiser design, the U.S.S. Horatio. The Horatio is a very flexible long-range exploration and support platform meant to fill the gap of mid-size units that Starfleet needs to fulfill its various mandates inside Federation territory and beyond.
Starship Mastery
[
]
Starship Mastery
CRUISER
Level
Name
Description
I
Absorptive Hull Plating
+25 Physical Damage Resistance Rating.
+25 Kinetic Damage Resistance Rating.
II
Rapid Repairs
Regenerates 1.25% of your maximum hull every 3 seconds in Space. Twice the amount is regenerated out of combat.
III
Enhanced Hull Plating
+25 All Energy Damage Resistance Rating.
+25 Radiation Damage Resistance Rating.
IV
Armored Hull
+10% Hull Hitpoints.
Abilities
[
]
Cruiser commands
The Fleet Yamaguchi-class Support Cruiser Retrofit supports the following cruiser commands:

Standard configuration
[
]
Federation starships come with standard equipment and weapons of the lowest mark available at the ship's minimum rank. The items provided are appropriate to the type of vessel and its related playing style.
T5-X upgrade
By using an [Experimental Ship Upgrade Token], the Fleet Yamaguchi-class Support Cruiser Retrofit may be upgraded to T5-X, unlocking an extra ship device slot, universal console slot, and the ability to slot an extra starship trait.
Ship comparison
[
]
The following table compares T5 Federation Cruisers.
Ship

Rank

Tier

Hull

 
 
 

Uni

BOffs

IR

Cost

Assault Cruiser

40

5
39000
1.3
1
4
4
✗
3
4
2
4
✗
✗
7
0.15
30
20,000  • 1
Ranger Temporal Battlecruiser

40

5
36000
1.2
1.05
4
4
✓
3
4
2
3
✗
10
0.15
55
2,000
Mirror Heavy Cruiser Retrofit

40

5
36000
1.2
1
4
4
✗
3
3
3
4
✗
✗
8
0.15
30
Mirror Assault Cruiser

40

5
39000
1.3
1
4
4
✗
3
4
2
4
✗
✗
7
0.15
30
Support Cruiser Retrofit

40

5
39500
1.317
1
4
4
✗
3
4
2
4
✗
✗
7
0.15
40
Mirror Star Cruiser

40

5
39000
1.3
1
4
4
✗
2
4
3
4
✗
✗
7
0.15
30
Advanced Heavy Cruiser Retrofit

40

5
39000
1.3
1
4
4
✗
3
4
2
4
✗
✗
8
0.15
40
2,000
Star Cruiser

40

5
39000
1.3
1
4
4
✗
2
4
3
4
✗
✗
7
0.15
30
20,000  • 1
Assault Cruiser Refit

50

5
39000
1.3
1
4
4
✗
3
4
2
4
✗
7
0.15
30
2,500
Odyssey Star Cruiser

50

5
42000
1.4
1.15
4
4
✗
2
4
3
4
✗
✗
6
0.15
20
200,000
Odyssey Tactical Cruiser

50

5
42000
1.4
1.15
4
4
✗
3
4
3
4
✗
6
0.15
20
2,500
Avenger Battlecruiser

50

5
37500
1.25
1
5
3
✓
4
4
1
3
✗
9
0.15
50
2,500
Fleet Avenger Battlecruiser

50

5
41250
1.375
1.1
5
3
✓
4
4
2
3
✗
✗
9
0.15
50
20,000  • 4
Fleet Star Cruiser

50

5
42900
1.43
1.1
4
4
✗
2
4
4
4
✗
✗
7
0.15
30
20,000  • 4
Fleet Support Cruiser Retrofit

50

5
43450
1.448
1.1
4
4
✗
3
4
3
4
✗
✗
7
0.15
40
20,000  • 4
Fleet Advanced Heavy Cruiser Retrofit

50

5
42900
1.43
1.1
4
4
✗
4
4
2
4
✗
✗
8
0.15
40
20,000  • 5
Exploration Cruiser Retrofit

50

5
40000
1.333
1
4
4
✗
2
4
3
4
✗
6
0.15
25
2,000  • 1
Fleet Exploration Cruiser Retrofit

50

5
44000
1.467
1.1
4
4
✗
2
5
3
4
✗
✗
6
0.15
25
20,000  • 4
Fleet Heavy Cruiser Retrofit

50

5
39600
1.32
1.1
4
4
✗
3
4
3
4
✗
✗
8
0.15
30
20,000  • 4
Fleet Assault Cruiser Refit

50

5
42900
1.43
1.1
4
4
✗
4
4
2
4
✗
✗
7
0.15
30
20,000  • 4
Odyssey Operations Cruiser

50

5
42000
1.4
1.15
4
4
✗
2
5
3
4
✗
6
0.15
20
2,500
Heavy Cruiser Retrofit

50

5
36000
1.2
1
4
4
✗
2
4
3
4
✗
✗
8
0.15
30
200,000
Odyssey Science Cruiser

50

5
42000
1.4
1.15
4
4
✗
2
4
4
4
✗
6
0.15
20
2,500
Admiralty ship
[
]
Admiralty Ship
59
21
18
-10% Maintenance per SciShip and TacShip
Gallery
[
]